Baby Shower Gifts
Gifts are an important part of any baby shower – if not the most important!
The baby shower is the perfect opportunity to give the mum-to-be some practical, cute, and fun gifts. However, it is quite hard to know what items are needed before the birth. A lot of gifts may end up being cute but useless. The new mum's needs will differ depending on how much she has already bought or whether she has items from a previous child. Nevertheless, some gifts simply make life easier for every mum.
For the perfect baby shower gift, you need to think about what you want to give and how you want to give it. Common gifts are baby clothes, care products, or vouchers. The final touch is how you package and deliver the gift. Below we explain what you need to consider for different gifts and then give you some inspiration for the perfect baby shower gift!
Baby clothing gifts
Even though tiny bodysuits and onesies are incredibly cute, you should resist the temptation to give small baby clothes at a baby shower. For the first baby outfit, the young parents don't need as many items as is generally assumed. Experience shows that they usually receive a lot of small-sized baby clothes or have already bought enough to get started. If you want to give baby clothing, then choose larger sizes. A good thing to keep in mind is what time of year it is when the baby will fit into the size you have chosen and make sure they are warm or cool enough.
Sizes are measured in centimetres. The following table serves as a guide:
| | |
| --- | --- |
| Clothing size | Age in months |
| 50 | 0 – 1 |
| 56 | 0 – 1 |
| 62 | 2 – 3 |
| 68 | 3 – 6 |
| 74 | 6 – 9 |
| 80 | 9 – 12 |
| 86 | 12 – 18 |
| 92 | 18 – 24 |
| | | | | | | | | |
| --- | --- | --- | --- | --- | --- | --- | --- | --- |
| Clothing size | 50 | 56 | 62 | 68 | 74 | 80 | 86 | 92 |
| Age in months | 0 – 1 | 0 – 1 | 2 – 3 | 3 – 6 | 6 – 9 | 9 – 12 | 12 – 18 | 18 – 24 |
Fabrics made of organic cotton are very comfortable for the baby and do not contain any harmful substances. Clothes should also be practical: for example, bodysuits that must be pulled over the head or tight trousers that don't fit over nappies make changing unnecessarily difficult. Once you have bought your baby clothes, you still need the right 'gift wrapping' for a perfect baby shower gift.
Above all, baby shower gifts should be useful.
Above all, baby shower gifts should be useful.
Baby shower gift idea – baby clothing cupcakes
These little cupcakes are super quick to make and look extra cute too. Each cupcake is made from a baby bodysuit and a baby sock. Here's how to make the cupcakes:
Lay the bodysuit flat and fold the sleeves and the edge of the bodysuit backwards on both sides. The baby suit should be about 6 or 7 cm wide. Next, place a baby sock at the bottom of the bodysuit so that the toe of the sock protrudes slightly and the cuff sticks out a little more. Then, simply roll the body up.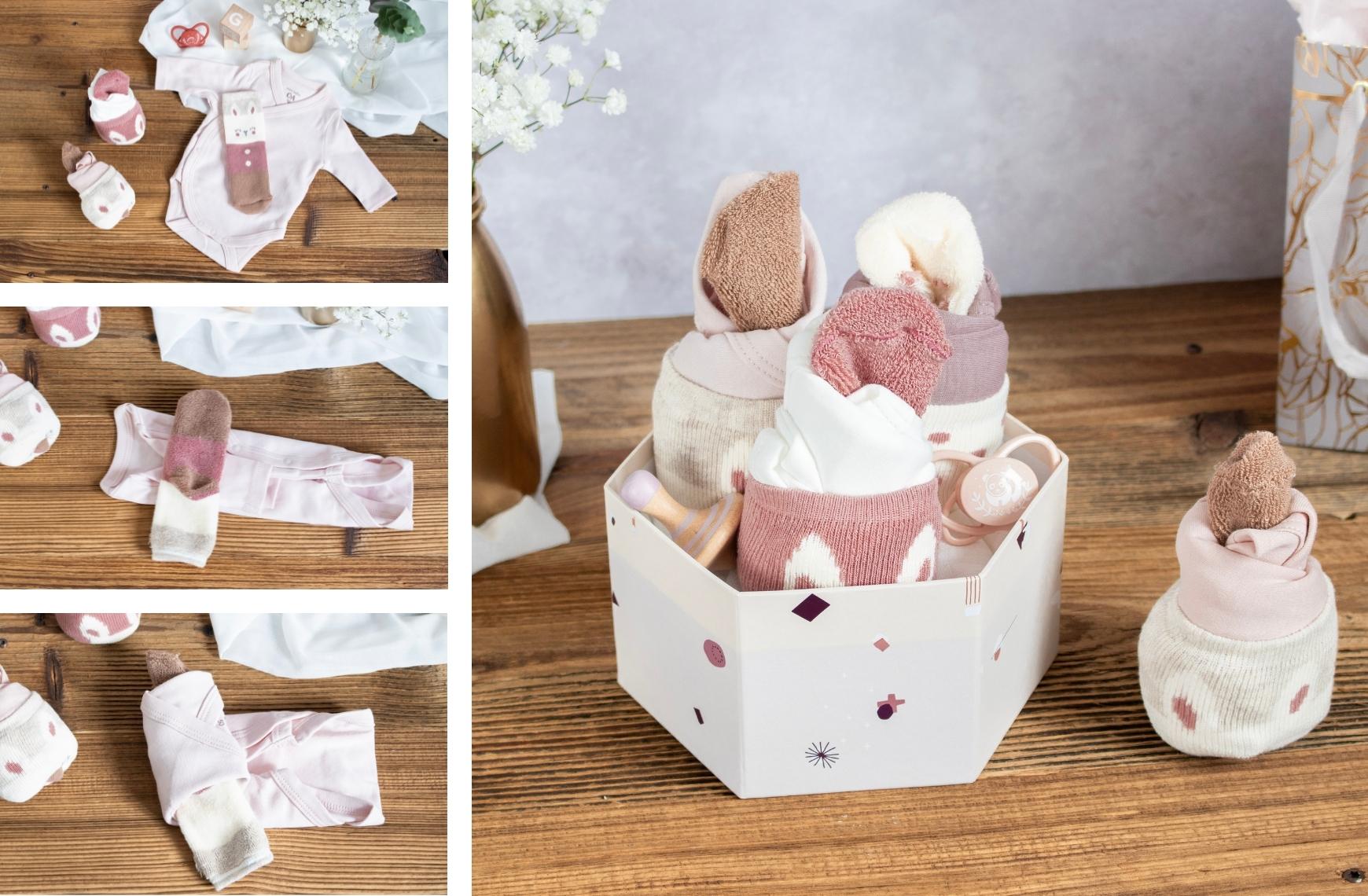 Turn the top of the sock back and over the rolled-up bodysuit. The toe part makes the 'cherry' on top of the cupcake, while the cuff acts as a cupcake tin.
As an alternative to the bodysuit, you can also use burp cloths, new mums can never have enough of these! Once the cupcakes are finished, put the finished cupcakes in a pretty box and you have the perfect baby shower gift.
Candy made from baby clothes
This candy made from baby clothes idea is just as cute. Put three matching baby bodysuits together as described above so that they are all the same width. Now roll up each bodysuit tightly and fix the roll with a rubber band.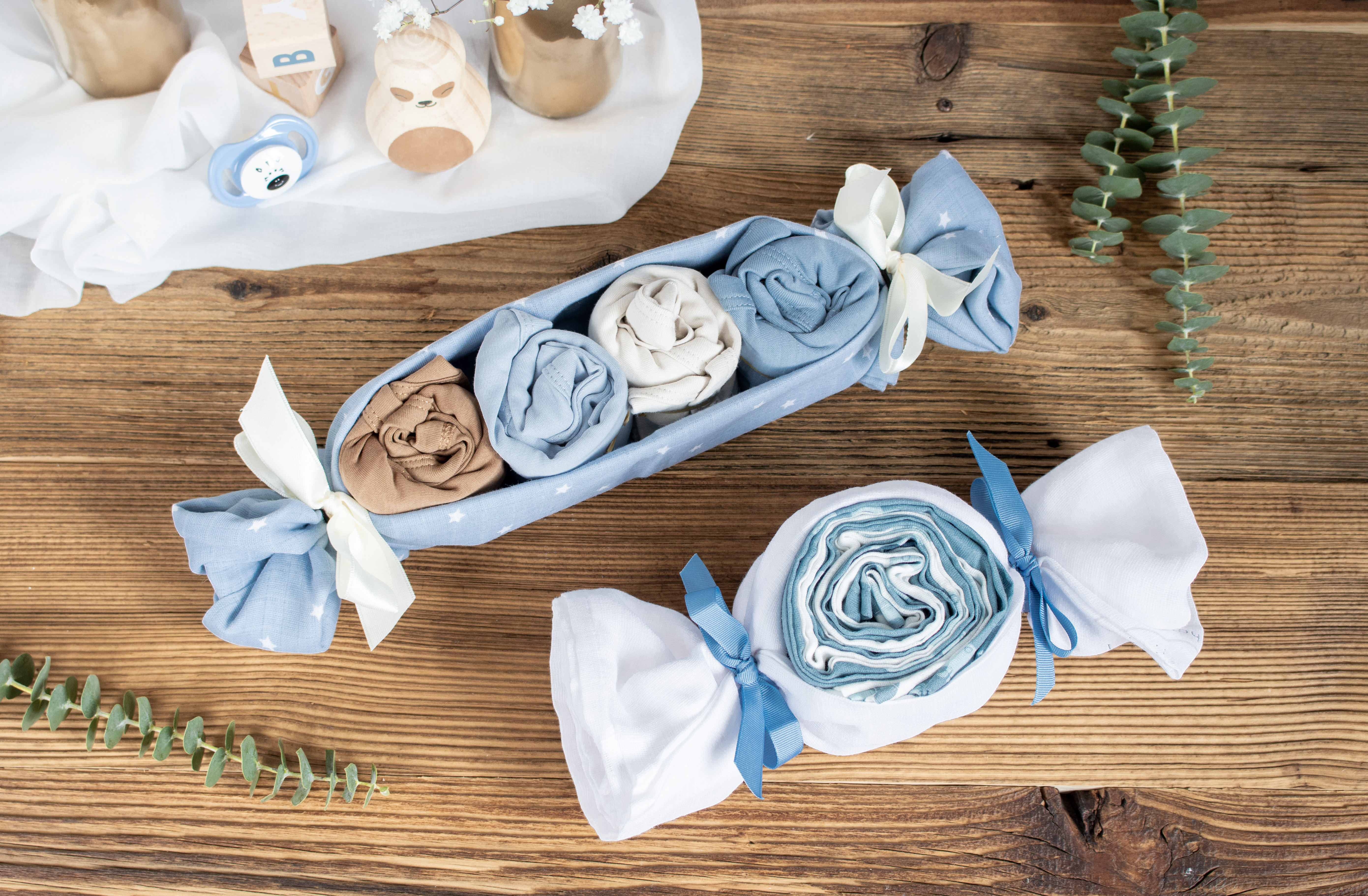 Next, spread a cotton nappy out on the table and place the three rolls in a row in the middle. Fold the long edges in on the cotton nappy until the overhanging edge is the same height as the cotton nappy rolls. Once you have done this on both sides, fold the edges upwards and fix the ends of the cotton nappy with ribbons. Your baby clothing candy is ready to give!
You can also wrap each roll in organza fabric to make little individual sweets.
The beauty of this DIY baby gift is its versatility. You can also use a variety of useful items to make these cute sweets, for example, towels, flannels, baby socks, or even hats.
Care products gifts
When giving care products, you should always check with the parents-to-be beforehand as opinions and preferences differ widely, even among care professionals such as midwives. Babies generally don't need a lot of care products. Discuss with the parents how they feel about them and what is important to them when it comes to baby care products and accessories. Many parents deliberately avoid any oils, creams, and bath additives. If you decide to give care products, make sure that they contain very few and, if possible, only natural ingredients and are free of any colourants and preservatives.
If you want to be on the safe side, you can give useful care accessories instead.
Here are a few ideas:
Baby nail scissors
Bottlebrush for cleaning milk bottles
Bath thermometer
Pacifier
Nursing pillow
Portable changing mat
Nappies
Once you've decided on a gift, it's time to put together an impressive baby shower package.
If you want to give care products, it's always best to talk to the parents-to-be, as many people will have strong preferences.
If you want to give care products, it's always best to talk to the parents-to-be, as many people will have strong preferences.
Baby shower nappy gifts
Gifts made from nappies are classic baby shower gifts. It's not surprising either, as the nappy creations are not only incredibly cute but also useful. Young parents can never have enough nappies. Even though every baby is different, you can expect to use about 8 nappies a day.
The nappy cake (follow the link to the craft instructions) is particularly popular as it is easy to make and looks very impressive. You can also attach lots of little gifts to it. The owl nappy cake (follow the link to the craft instructions) with its big, sweet eyes is also a great baby shower gift. You can find more craft instructions for practical nappy gifts here.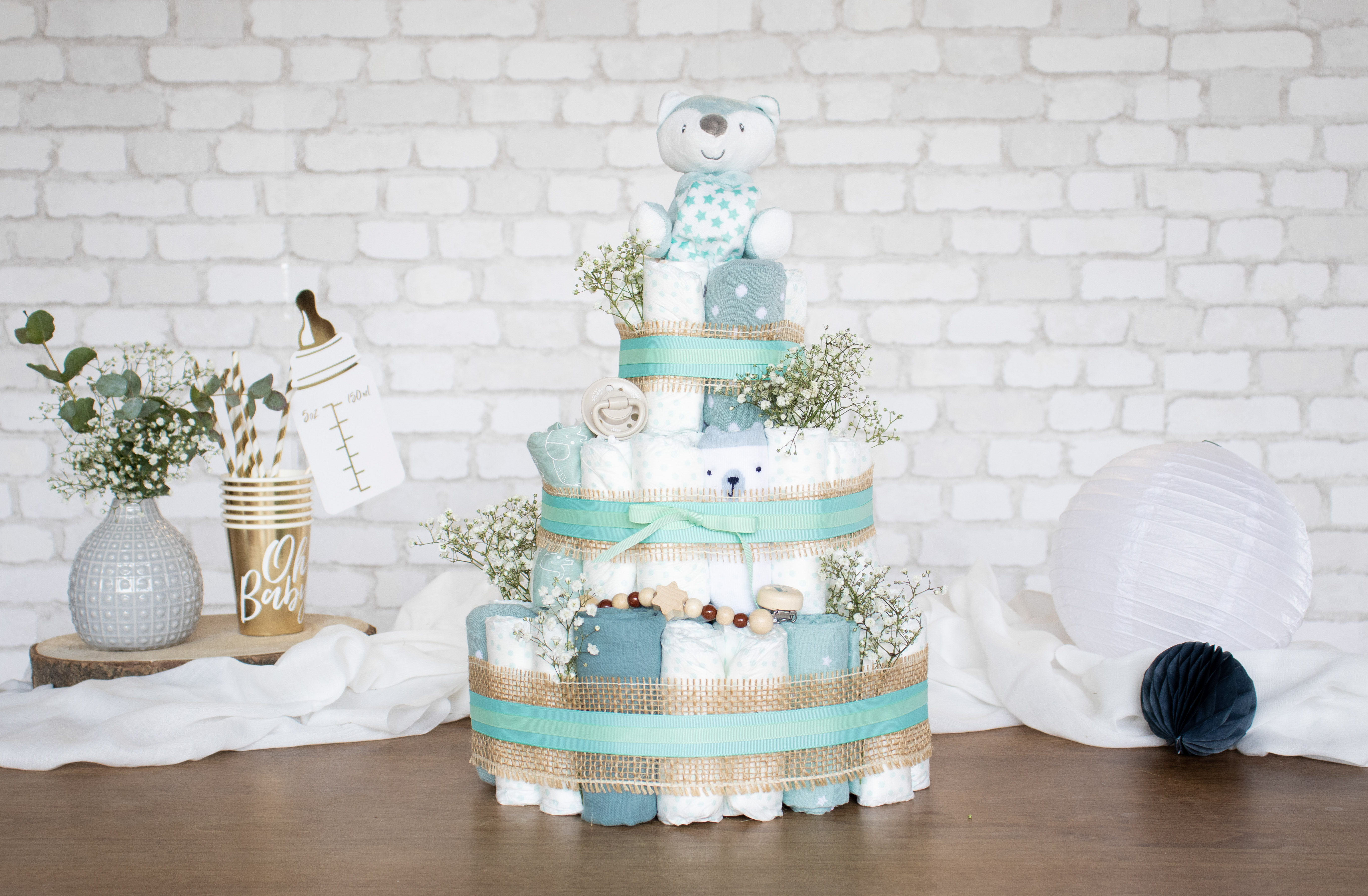 In the first year, a baby uses about 3,000 nappies. A baby shower gift made from nappies is something young parents can put to good use.
In the first year, a baby uses about 3,000 nappies. A baby shower gift made from nappies is something young parents can put to good use.
Baby shower gift basket
You can place the many beautiful baby gifts in a pretty box or basket. If you buy a nice box that is reusable, the new parents can find a good use for it rather than throwing it away. Either choose a rustic wooden box that can be used for sentimental items or a more practical plastic box that can be reused to store items in the bathroom or similar.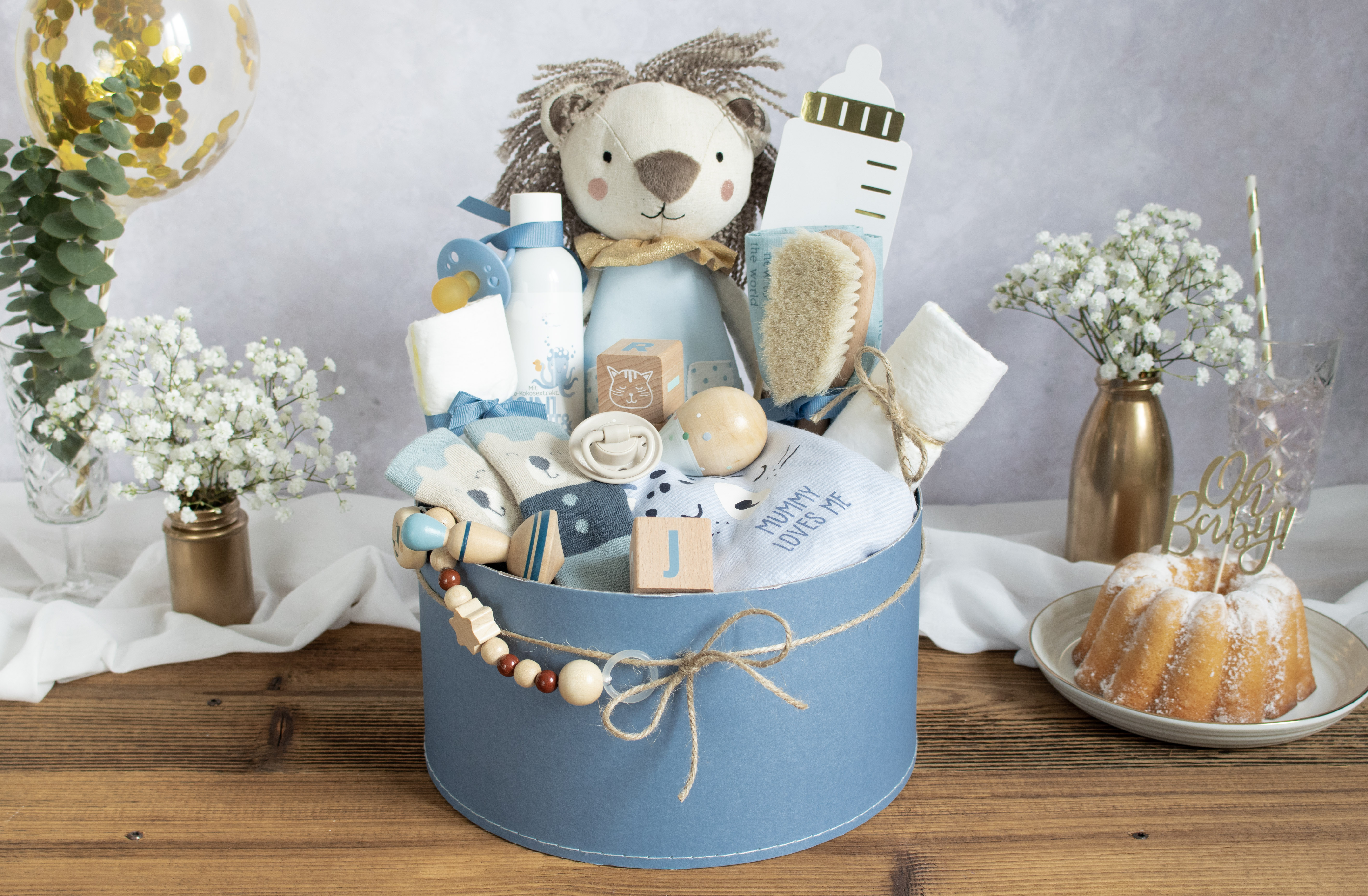 If you want to give a gift basket, it's best to start with a theme. Be creative with your theme so that you can be sure that the mum-to-be has not already bought or received the gifts in another gift. One idea would be to use the baby's first trip to the beach as the theme. There is a great selection of baby swimwear in the C&A shop.
Using the trip to the beach idea, you can fill a nice light-coloured wooden box in a nautical design with the following items:
A swimsuit or swimming trunks
A baby bath towel with a hood
A sun hat
A picnic blanket or small beach towel
Beach toys, like sand moulds
Another cute idea would be the baby's first rainy day. Here are some ideas for the gift box:
A practical pair of splash pants
Wellington boots
Delicious baby tea to warm up again
Wet wipes
Sensitive washing powder
By the way, baby shower gift boxes don't have to be geared towards the baby, the mum-to-be can also be pampered.
In a mum's gift box, you can pack:
USB stick filled with her favourite playlist for the delivery room.
A good book
High-quality skin oil to help with stretch marks
Relaxing bath oils
Soft, warm socks
Baby shower vouchers
Giving vouchers as gifts may not be the most creative idea, but the new parents are sure to put them to good use. Local drugstore, baby clothing shop, or pharmacy vouchers are always useful. But wellness vouchers for the new mum are also a very popular baby shower gift. Every young mother will really enjoy some time to herself to relax and unwind, for example, a hairdresser or massage voucher.
Personal vouchers
For example, you could create DIY vouchers for:
Shopping
Window cleaning
Babysitting
Driving to kindergarten
Midnight crying duty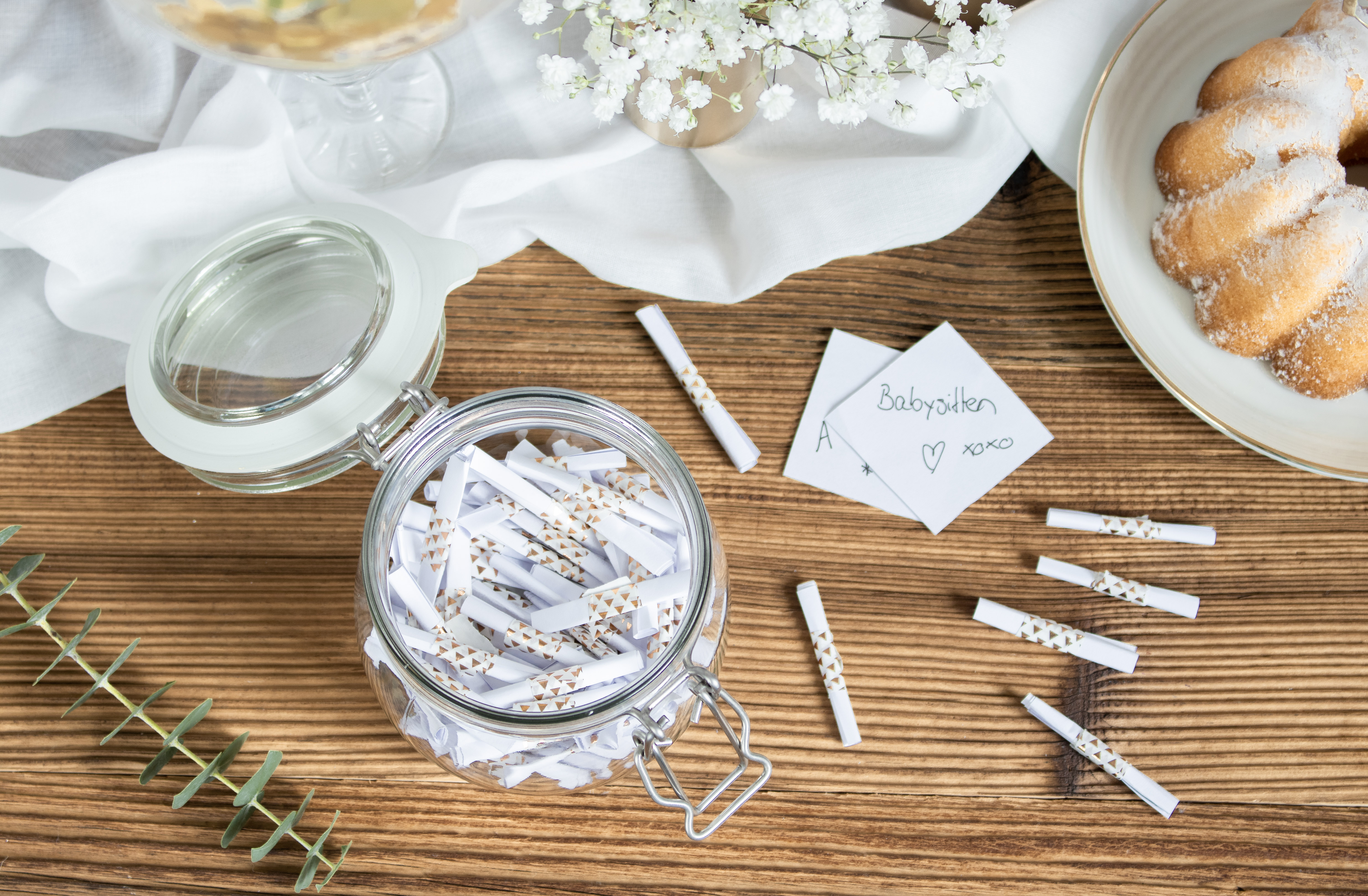 Home-cooked meals
Straight after the new arrival, it would be great for the parents to have some time together rather than just keeping up with the endless chores. A thoughtful and helpful gift is a month of home-cooked meals.
It is best to group together with some friends for a gift like this. Between the volunteers, a home-cooked meal (or several frozen meals) would be delivered each day. The new parents will thank you from the bottom of their hearts!
The perfect baby shower gift
Finally, the possibilities for baby shower gifts are almost endless. The important thing is that your gift comes from the heart and is practical. It is nice to give something cute, but useful bland things can also be wrapped up to look cute. You should plan enough time to prepare and wrap your gift and – don't forget to talk to the other guests so that there is no duplication.
Image sources:
iStock.com/Zinkevych