Baby Shower Decoration
When a baby is born to your friends and family, you naturally want to celebrate. As with any party, the right decoration is crucial and ensures a good atmosphere right from the start. Here you can find inspiration and DIY instructions on decorating for a baby shower.
The most important things for the baby shower decoration
Unique baby shower decoration will amaze the mum-to-be and the guests. Fancy decorative elements get everyone in a good mood and turn the baby shower souvenir photos into true works of art. If the same colours are used throughout the decorations, food and games, the whole party will look very high-class. You don't have to spend as much time and money on the right look as it might seem. With the following tips and inspiration, you can create a dreamy baby shower decoration.
As with any project, good planning is the key to success. Get inspired long before the baby shower. Whether it's from other parties, friends or colleagues, window displays or social media, baby shower inspiration is everywhere. Write down ideas that you like. Shortly before the party, you can plan and set up your favourite baby shower decoration ideas.
It is essential to keep your colour scheme consistent throughout all your decorations so that everything works together. Too many bright and bold colours create visual unrest and a chaotic look. The best thing to do is to choose a base colour for the tablecloth, fabric, and paper. Either white, grey, brown, or similar would work well. These act as a natural base for your colour scheme and will really bring your chosen colours to life. Shades of blue are common for boys and pastel pink colours for girls; however, you can choose any colour you like for these little rays of sunshine!
The baby shower is really a celebration for the mum-to-be, so the only thing that matters is making sure that she will love the theme and decoration styles.
When planning the decorations, ask yourself the following questions:
What furniture is available at the party location?
What are the mum-to-be's favourite colours?
What are the mum-to-be's favourite flowers?
What gender is the baby (if known)?
How is the baby's room furnished?
What time of year is the party planned?
Get inspired online and jot down ideas for your party. Then write down a shopping list for the baby shower decorations so that you don't forget anything.
Get inspired online and jot down ideas for your party. Then write down a shopping list for the baby shower decorations so that you don't forget anything.
Decorating the baby shower table
It doesn't matter if it's a gift table, a buffet table, or a dining table, with the right decorations you can create a cute and playful atmosphere. Start by using neutral-coloured plates, cups, tablecloths, and cake plates. These will act as a base for your chosen accent colours. In addition to splashes of colour, you can mix in different materials too. For example, add some wooden items, some subtly patterned fabrics, geometric shapes, stones, or sand throughout your arraignments. Then add your colourful baby shower decorations.
Candles and fresh flowers are usually the main table decorations, but napkins, straws, decorative figures, and place cards also play a part in the table decorations. We give you some tips on how to organise all your table decorations so that the table doesn't end up looking chaotic.
Stick to your chosen colour scheme so that the baby shower decorations match each other and don't look too messy.
Stick to your chosen colour scheme so that the baby shower decorations match each other and don't look too messy.
Decoration idea: Painted baby items
Dummies, bottles, building blocks, and baby shoes come in all sorts of shapes and colours. They are perfect for baby shower decorations, but it is not easy to colour-coordinate all these different baby items. The trick here is coloured paint. Start by collecting old and unused baby items. It doesn't matter if they are worn out. Next, pick up some paint that matches your theme colour from a DIY or art supplies shop and give the old items a fresh coat of matching paint.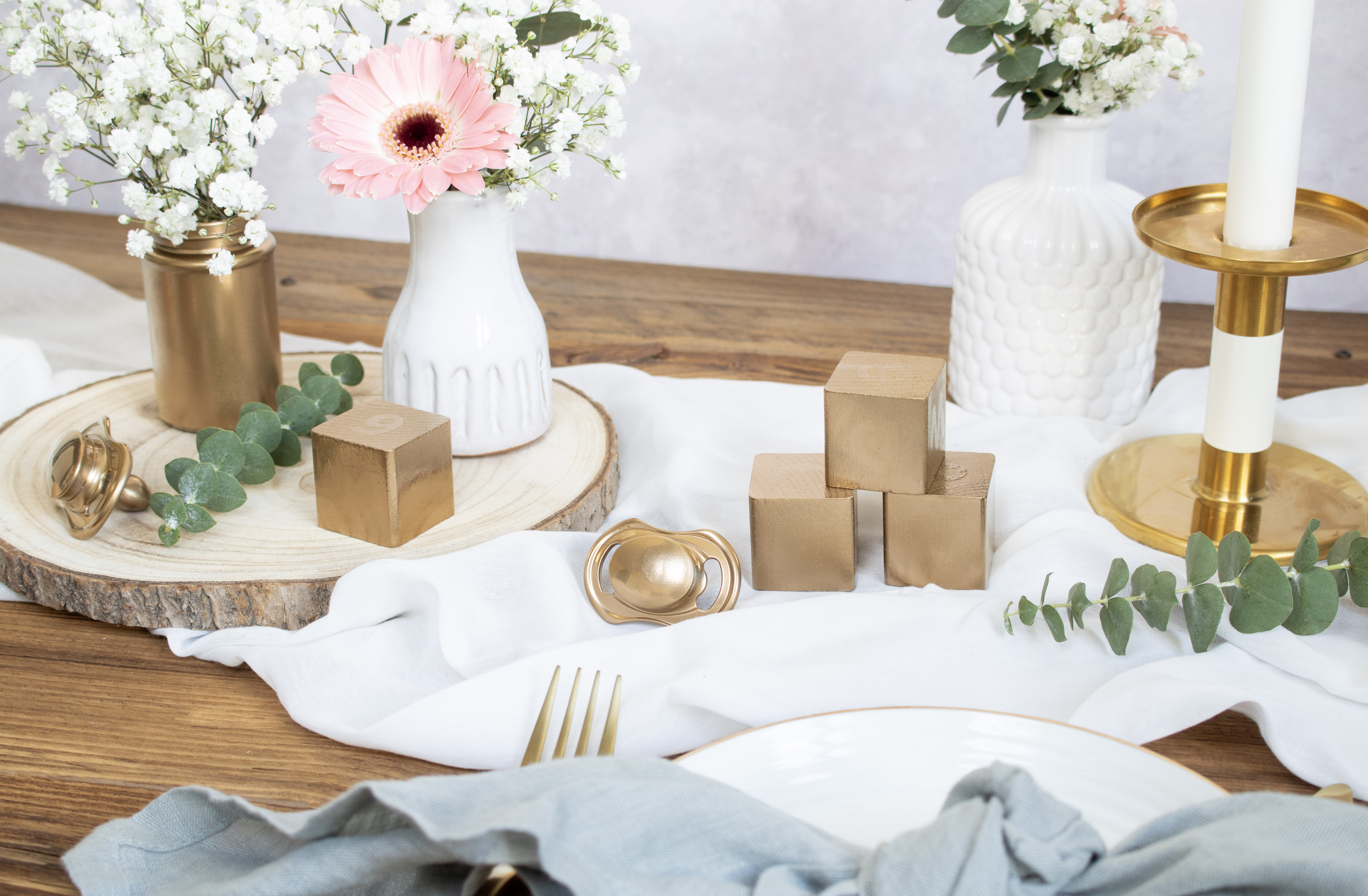 Tip: For a more sophisticated look, try copper or gold paint.
Once you have all your colour-matched items finished, you can distribute them over your table and attach them to gifts or larger decorations.
Decoration idea: Baby food jars
You can make wonderful vases or tea lights for your table decoration out of glass jars. Ask around to collect empty food jars or use the left-over jars from the guess the baby food game by emptying the food before you play. Alternatively, you can use jam jars and other larger jars. The smaller jars make great tea light holders. Larger jam jars can be used as flower vases, napkin holders or cutlery holders.
Version 1: Painting baby food jars. You will find a wide range of different coloured paints at DIY centres or art supplies shops. Choose 1 or 2 colours from your baby shower colour palette. Clean the jars and let them dry completely. This is best done outside, if possible – if not, make sure you are in a well-ventilated area. Lay out some old newspaper or cardboard and place the jars upside-down on the paper/cardboard. Then, apply the paint by following the instructions on the paint can.
Tip: The candlelight cannot shine through the glass if it is completely painted. Try adding less paint towards the bottom in a gradient to allow some light out. This gives the tee-lights a lovely effect.
Version 2: Wrapping baby food jars with fabric ribbon or paper. The best types of ribbons to use are wide fabric ribbons, lace ribbons, raffia ribbons, or paper lace doilies. For larger jars, you could add some coloured dummies to the ribbons.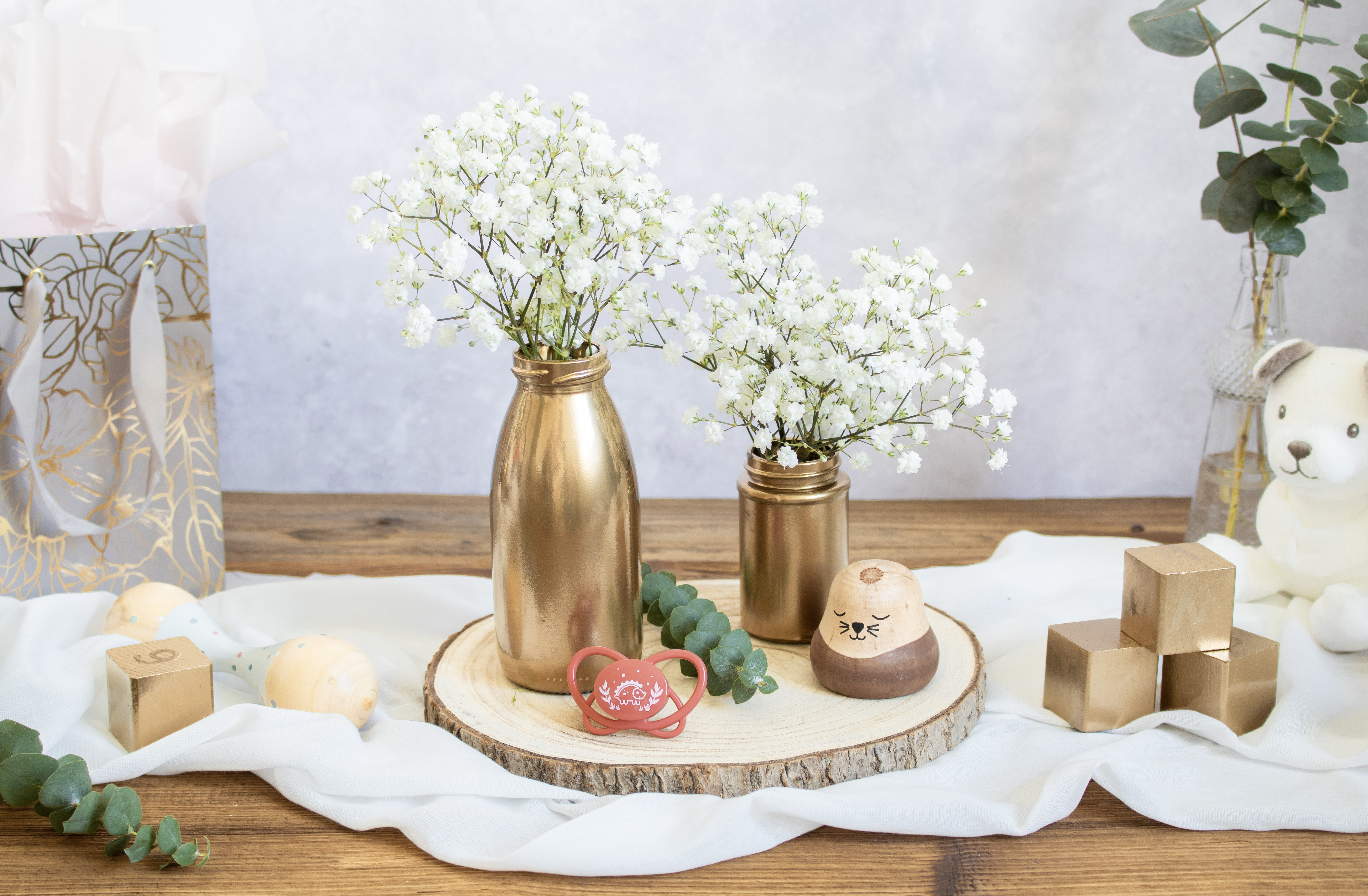 Decoration idea: DIY snack hot-air balloon
This adventurous hot-air balloon makes a great table decoration and provides the guests with snacks at the same time.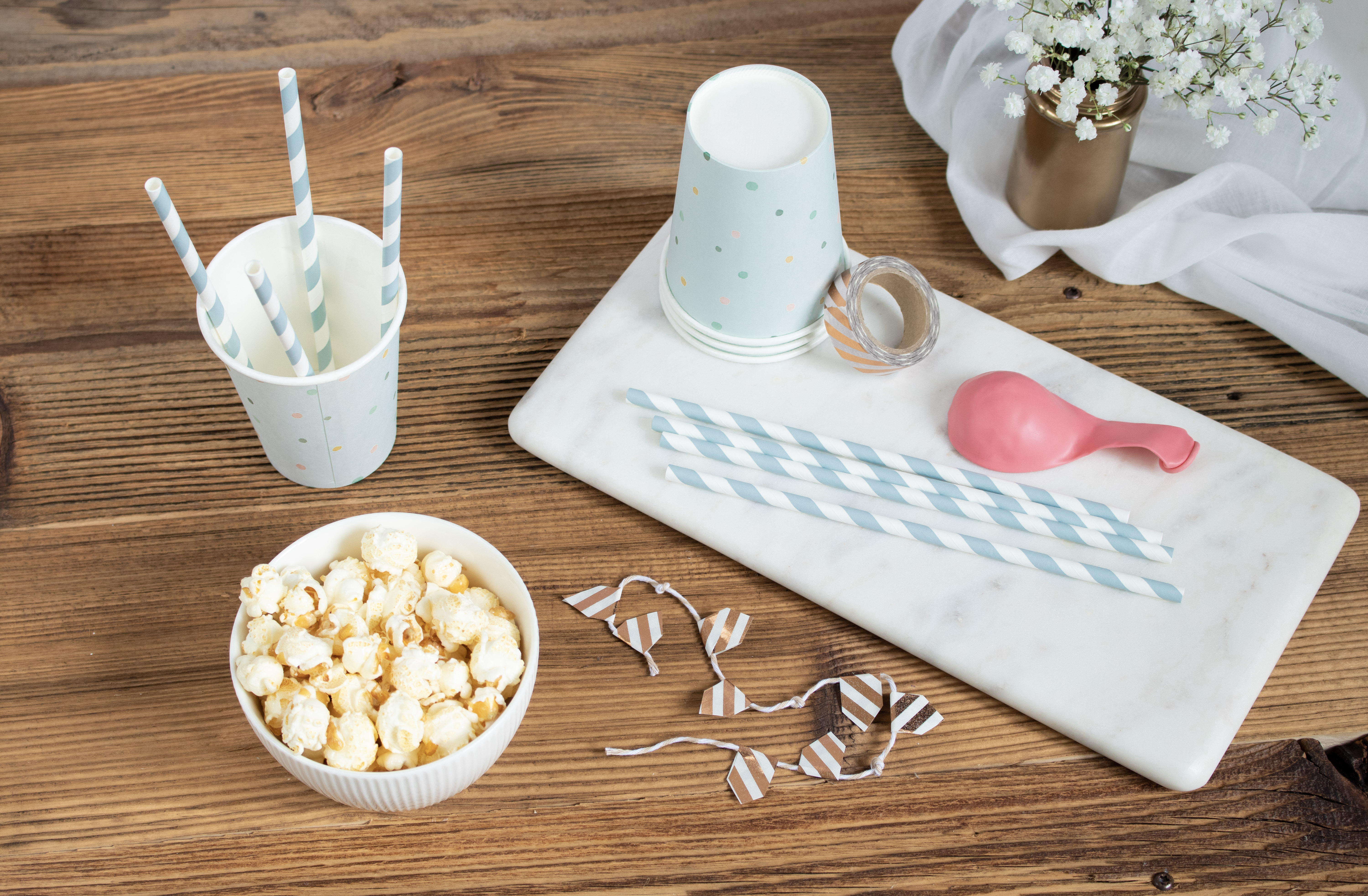 To make the balloons you will need:
Matching coloured balloons or paper balloons
One paper snack bowl for each balloon
4 straws or wooden sticks for each balloon
An 80cm piece of string for each balloon
Matching coloured paper
Cupcake liners (optional)
Start by fastening the 4 straws to the inside of the bowls using a hot glue gun or tape. To prevent the snacks from sticking to them later, you can pop a paper cupcake liner on top. Blow up a balloon until it fits between the 4 sticks. Tie it off and then fold a 4 cm wide strip of paper lengthwise and cut small triangles from the folded edge. These will become the flags. Unfold the triangles, coat the inside with glue, place the string in between and press the sides together again. Repeat this at regular intervals along the string. Now glue the little row of flags to the outside of the 4 struts of the hot air balloon using hot glue. That's it. Your hot air balloon snack bowl is ready to be served as baby shower food!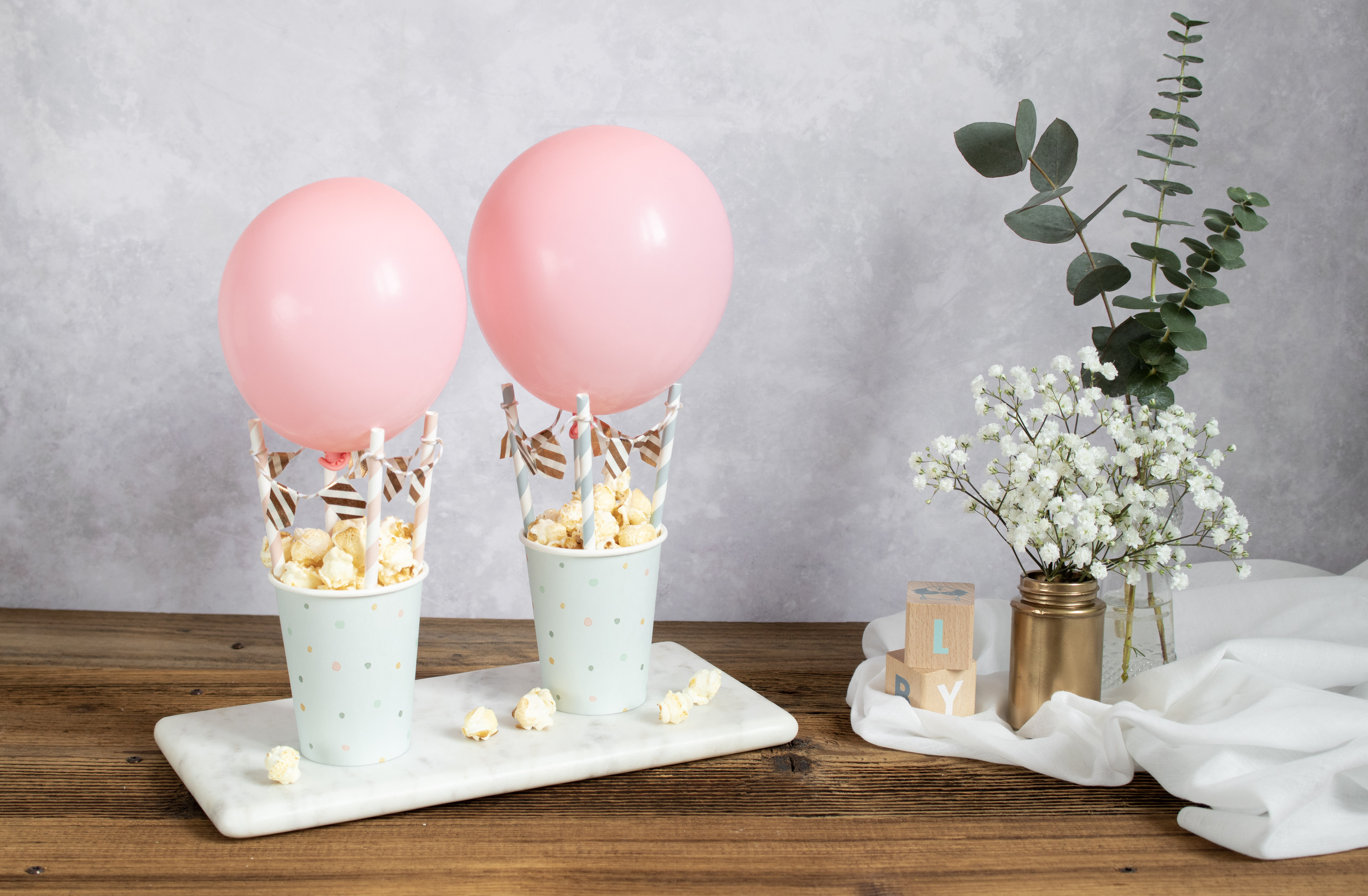 Room decorations
Adding a garland and a few balloons to the gift table will make the party room feel much more vibrant. These decorations sometimes cost a lot of money and usually end up in the trash after the party. Confetti and glitter will brighten up the guests' mood but cleaning up afterwards can be time-consuming and frustrating for the host. We give you two craft ideas that avoid these two issues while creating fun and unique baby shower wall decoration.
Decoration idea: Baby bodysuit garland
With a homemade garland, you can give the mum-to-be a special treat, because it is made from useful baby items. Get some nice ribbon from a DIY or art supplies shop and hang it around the room. C&A has a wide selection of baby bodysuits, socks and booties in many colours and designs. Finally, attach the clothes to the ribbon with small wooden clips.
Decoration idea: Glitter and confetti balloons
Everyone agrees that glitter and confetti create a great party atmosphere, but you'll be cleaning it up for days after the party. Our tip: Use glitter and confetti inside balloons for a great party effect without the mess.
For this idea, use clear balloons. First, stretch the rubber of the balloon a little, by blowing it up a bit and let the air out again. Use a small funnel to fill the balloon with glitter or confetti. For larger, more stretchy balloons, you can carefully fill them with little baby socks or coloured baby clothes. Then inflate the balloons with air or helium as usual.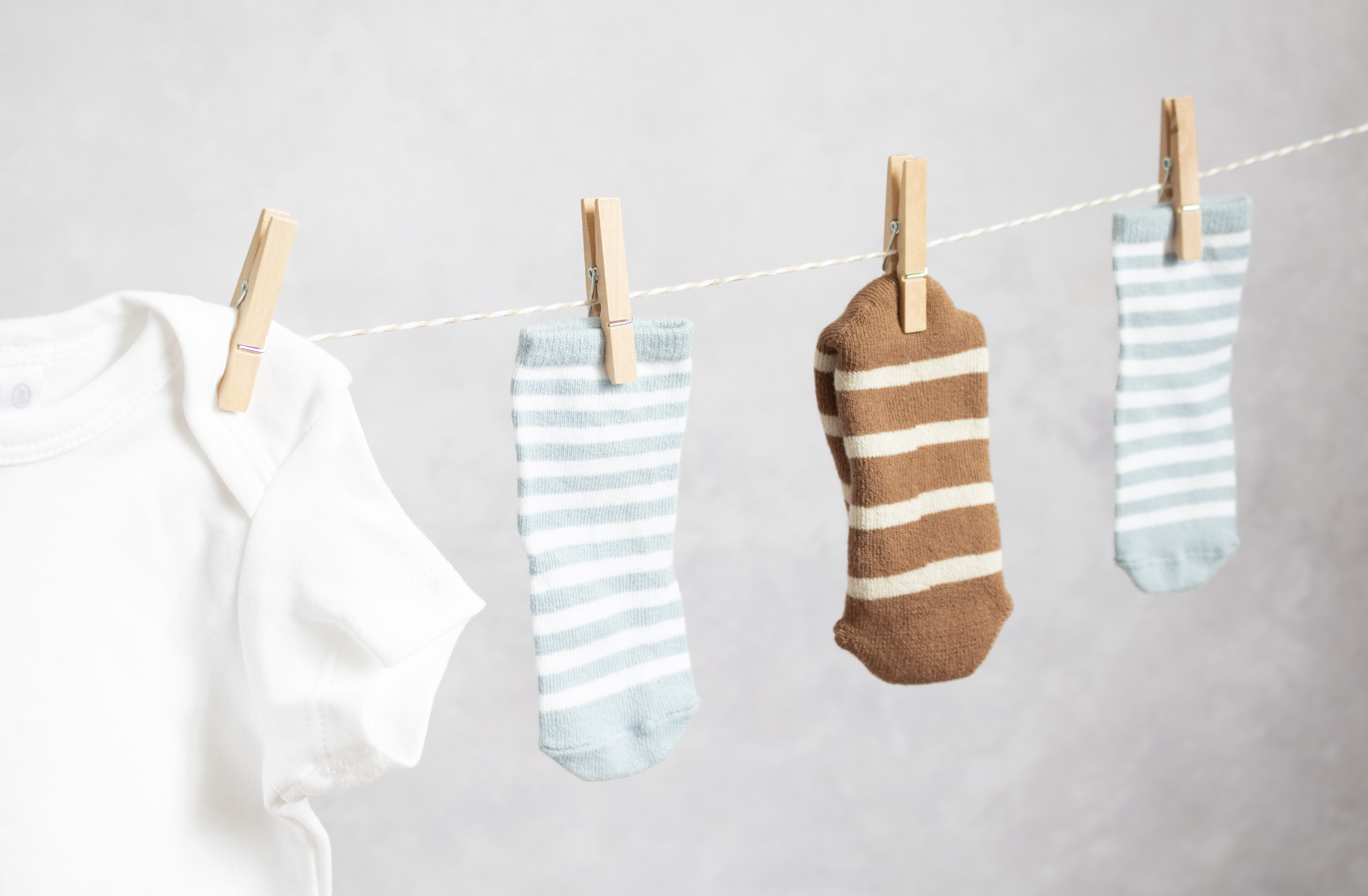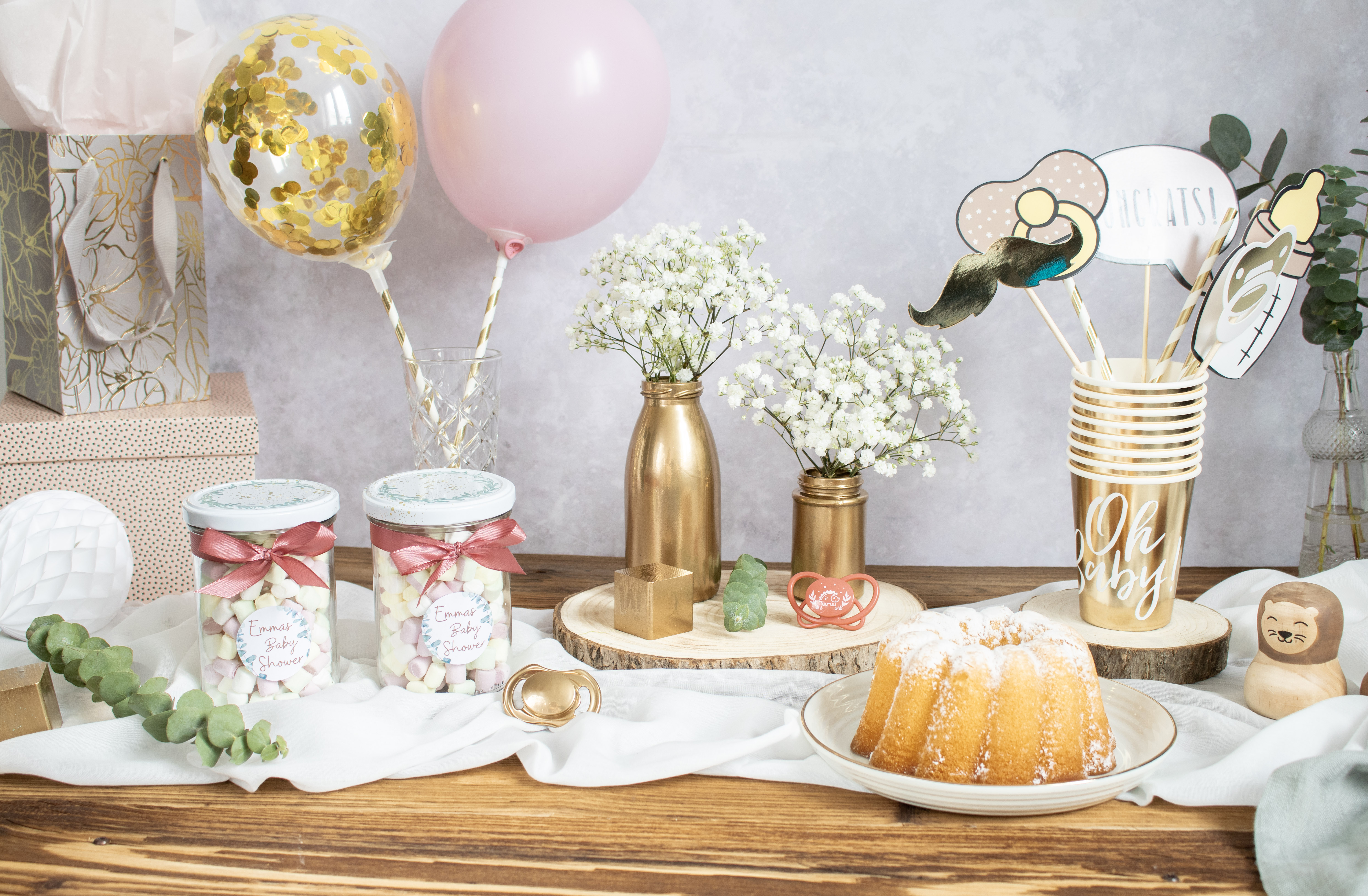 Ready-made baby shower decoration sets from online shops can be very expensive. You can save some money and personalise your party with our homemade baby shower decoration tutorials. If you plan the colours well, your baby shower will be an unforgettable day spent with loved ones. The mum-to-be will be thrilled with the matching table decorations, lovely baby shower garlands, fun confetti balloons, and various personalised decorations made from baby items that double as baby gifts.
Making decorations out of little baby clothes, such as socks or bodysuits, double up useful gifts for the mum-to-be.
Making decorations out of little baby clothes, such as socks or bodysuits, double up useful gifts for the mum-to-be.
Image sources:
iStock.com/kzenon