Etiquette in the swimming pool - the most important swimming rules
Swimming pools attract numerous visitors all year long. Families with children, for example, like to spend their free time in the water, just as much as endurance swimmers. In this article you will find out which rules increase your safety in the swimming pool and how you can have fun while swimming.
General swimming rules
The International Life Saving federation of Europe established several general swimming rules to ensure smooth cooperation in swimming pools [1]. If you follow these rules, you can greatly reduce the major safety risks:
Shower and cool down before swimming. Do not enter the water if you feel unwell or have other medical conditions.
Do not go swimming on a full or empty stomach.
If you are a non-swimmer, only enter the water up to your belly.
Only call for help when you are in real danger. Help others when you notice that they need help.
Do not overestimate your capabilities and strength.
Inflatable swimming aids do not provide any safety in the water.
Make sure the water is clear and deep enough before jumping in.
Make sure that the water and its surroundings remain clean. Waste goes in the rubbish bin.
Avoid swimming in open waters near ships and boats.
When swimming outdoors, leave the water immediately when a storm is approaching and take refuge in an enclosed building.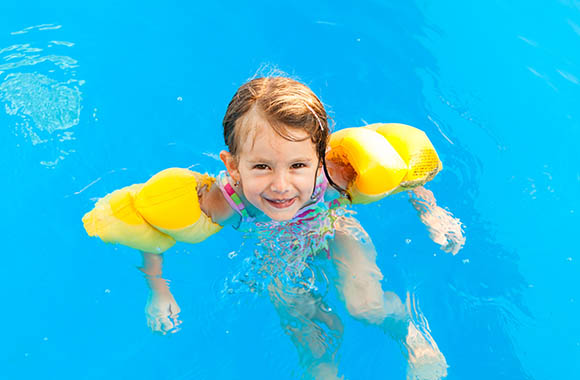 The right swimming pool hygiene
Due to the high number of daily visitors, there is usually a high level of humidity in the changing rooms of a swimming pool. Combined with heat, such places are an ideal breeding ground for germs and bacteria. Even if the swimming pool complies without exception with the current hygiene regulations[2]. In public swimming pools, special rules therefore also apply to visitors in order to ensure appropriate health hygiene for all swimmers.
For this reason, showering in the swimming pool is compulsory both before and after swimming. Shower gel should therefore be in your swimming bag. You should also wear swimming shoes, as these prevent the spread of fungus and also reduce the risk of slipping.
Calmly explain to your child that the pool should not be used as a toilet. Plan regular visits to the toilet, especially for small children, or use a swim nappy. This way, accidents don't stand a chance.
General safety tips for visiting the swimming pool
Swimming should be above all fun. Nevertheless, the swimming pool safety rules should be read and observed carefully, as there is always a certain amount of safety risk near the water. There is always a risk of slipping on wet or slippery surfaces. Therefore, adapt your pace to the conditions and move attentively, with care and consideration. Swimming shoes provide more grip on slippery ground and provide additional safety. Children should not run in the pool either.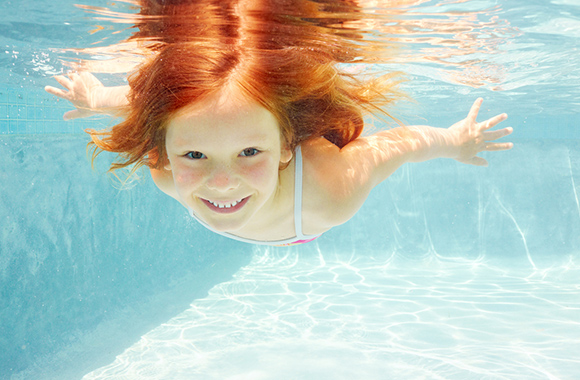 If your children cannot swim yet, they are only allowed in the designated non-swimmer area and must be supervised at all times. This prevents unnecessary dangerous situations from occurring in the first place. Make sure that your children only jump from the edge of the pool in authorised areas, keeping a sufficient distance and that they do not submerge themselves - even for fun. The areas in the immediate proximity of diving boards or water slides must be cleared as quickly as possible after using the facilities. A longer stay there is prohibited.
If you feel unwell or are restricted by serious health problems, it is better to avoid a visit to the swimming pool for the time being. It is also better not to go into the water on a full stomach. So it's better not to go into the pool immediately after a meal. But also swimming on an empty stomach can become dangerous. In both cases it is possible to experience side stitches and a general feeling of discomfort. This may result in vomiting or even a circulatory collapse.
To avoid circulatory problems, you should always cool down before entering the pool and never jump directly into the water - even if a quick cool-down seems tempting in hot weather. The circulatory system is severely stressed by such a rapid change in temperature. In the worst case, unconsciousness may occur [3].
Be considerate in the swimming pool
As space in the public pool is limited, mutual respect plays an important role. Therefore, be careful not to occupy the entire pool. If you are still in the early stages of your swimming lessons or if you enjoy taking your time when swimming lanes, you should stay on the right-hand side of the pool. This will allow other swimmers to overtake you without any problems. The middle of the end of the lane should always be kept clear, as this is intended for turning manoeuvres. The best way to avoid dangerous collisions is to make sure that there are no other swimmers in the immediate vicinity before turning. If you want to take a break from swimming, you should always do so at the outside edge of the lane.
As a rule, always keep a distance of at least one metre from the person in front of you when swimming. If you notice that the swimmer in front of you is too slow, leave their slipstream and overtake them. If you are overtaken, let the other swimmer pass quickly. Keep up your pace and do not rush.
Summary
Observing the general swimming and safety rules will ensure that you can enjoy your swim. Explain these rules to your children before going to the pool. Appropriate swimwear together with considerate behaviour help to avoid accidents and ensure fun in the water.
References:
[1]https://europe.ilsf.org/projects/pool-safety/
(Accessed on 08.02.2022)
[2]https://www.eusaswim.eu/documentation/standards-norms/
(Accessed on 08.02.2022)
[3]https://theconversation.com/diving-into-cold-water-can-be-deadly-heres-how-to-survive-it-119341
(Accessed on 08.02.2022)
Image sources:
iStock.com/Imgorthand
iStock.com/Martin Barraud
iStock.com/fotostorm
iStock.com/Goodboy Picture Company