Baby swimming: support and fun during water familiarisation
Among the numerous baby courses available, baby swimming is at the top of the list for many parents. Splashing around in the water is not only great fun for babies, but also trains their motor skills and muscles. This article provides an overview on how to find the right swimming course for you and your child, how a course is structured and what its objectives are. Furthermore, you will find out at what age you can start getting used to the water and how your baby can be encouraged to swim and have fun.
Water familiarisation - requirements and preparation
The right time to start the course is crucial. Experts recommend that baby swimming should start between the age of 3 and 6 months at the earliest [1]. Only then will the baby have sufficient head and neck control. It is also important that your baby can largely regulate its body temperature independently. When this is the case varies greatly from one baby to another. It is therefore important to discuss the right time with your midwife or paediatrician before signing up for the course.
Before going into the pool for the first time, you can prepare your child for the course: for example, by splashing around together in the bathtub. With constant physical contact, singing and talking to your child, you can give them a feeling of safety and gently get them used to the water. You should gradually lower the water temperature to 33 degrees. This corresponds to the temperature in most indoor swimming pools.
Tips for choosing a swimming course and the right equipment
When choosing a course, make sure that the course instructor has suitable qualifications. They should also have received pedagogical training and have a certain amount of empathy. Many courses also offer a trial lesson. This gives you an insight into how the course instructor works, how the group harmonises with each other and whether your child enjoys getting used to water before you register.
A fully packed bath bag also helps you to concentrate entirely on your baby once there:
Aqua nappy: a special swimming nappy prevents unpleasant surprises and protects your baby's bottom from bumps on the seat. It is compulsory for babies and toddlers in most swimming pools. You should also have a fresh, dry nappy with you on the way home.
Bathtub toys: the use of water toys is part of the course. Therefore, some favourite toys should also be included in the swimming bag.
Bathrobe: to prevent the baby from catching a cold after swimming, a baby bathrobe should be included. The hood additionally warms the sensitive head.
Baby cream: after a long time in the water and the following shower, the baby's skin will appreciate an extra portion of moisture.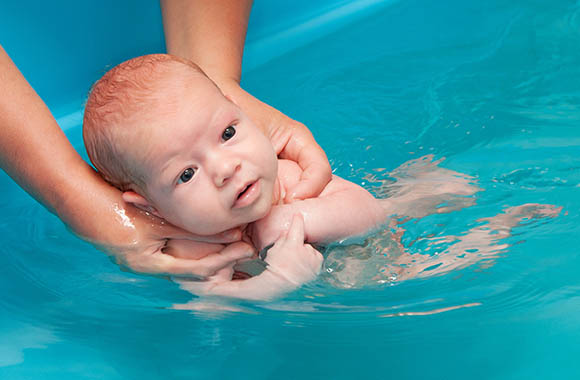 Benefits of baby swimming for you and your child
Once your child is ready and you have chosen a course, you can start with baby swimming. This is a playful way for your baby to get to know the element of water and to develop its natural urge to move. Buoyancy in the water makes movement easier. This way, children can discover their body intensively and build up muscles effectively at the same time. In order to support your baby in the best possible way, you will learn important hand/arm movements and techniques. This way, your child can make the most of the movement possibilities in the water and feel safe and secure.
But it is not only your baby's muscles and immune system that are strengthened during water familiarisation. Baby swimming also makes an important contribution to the physical and biological development of your baby. Your child's posture, motor skills, coordination and balance improve [2]. The intensive contact between parents and baby in the water, the physical closeness and the shared experience strengthen trust and the emotional bond. Your baby develops healthy self-confidence and social behaviour at an early age.
Various water games and the use of different toys allow the baby an easy access to the element of water. Most baby swimming courses also use music. It is scientifically proven that singing helps to promote language [3]. Repeating the songs reinforces rituals. Usually, a welcoming and a farewell song are sung, and a few others complement the games and movement exercises.
Baby diving: yes or no?
There is not only a lot of disagreement on this question, but above all immense uncertainty among parents. The innate breath-holding reflex, which is often used as an argument for diving, is not a myth: in fact, babies automatically hold their breath when their face comes into contact with water. However, this reflex disappears in the first weeks or months after birth [4]. When exactly this happens varies from baby to baby. Therefore, paediatricians and other experts do not recommend submersion exercises during baby swimming.
Generally, diving is not the main concern or goal of baby swimming. Whether or not such diving exercises are supported depends mostly on the course instructor. Even if submersion of the babies should be part of your course programme, your child's needs always come first. Your baby should be prepared to dive and enjoy it. If you don't feel safe doing this, it's perfectly fine to skip this exercise. Even if everyone else joins in.
Summary
Water familiarisation is a lot of fun for you and your baby and strengthens your child's muscles at the same time. To make a swimming lesson as relaxed as possible, make sure that your baby is well rested and fed. Let your baby decide whether it wants to participate actively and intensively in the course. If it doesn't feel like doing individual exercises, that's perfectly fine. It's often simply a question of how the baby is feeling on the day. So if you notice at home that your baby is not in a good mood, treat yourself to a quiet afternoon instead and avoid the excitement of the indoor pool.
Occasionally, a baby's circadian rhythm may change during the course. Then it can happen that the child no longer enjoys swimming at the scheduled time, but is hungry or tired. Instead of completely stopping the fun swimming experience, you can perhaps change to another course after consulting the course instructor.
References:
[1]https://www.parents.com/fun/activities/outdoor/swim-safety-and-fun-for-babies/
(accessed on 08.02.2022)
[2]https://www.parents.com/fun/activities/outdoor/teach-your-child-to-swim/
(accessed on 08.02.2022)
[3]https://www.brighthorizons.com/family-resources/music-and-children-rhythm-meets-child-development
(accessed on 08.02.2022)
[4]https://www.babycenter.com/baby/activities-play/is-it-true-that-babies-are-born-with-the-ability-to-swim_10313062
(accessed on 08.02.2022)
Image sources:
iStock.com/anatoliy_gleb
FamVeld/Shutterstock.com
dien/Shutterstock.com
Evgeny Atamanenko/Shutterstock.com