Internet safety and data protection for the whole family
Today, the internet has become part of the everyday lives of young children and teenagers. Some go online to read the news, look at photos or watch films. Others feel drawn to playing video games or spend a lot of time on social media. Many of these useful and pleasant features of modern media come with certain risks to be aware of. While online, users unavoidably leave data tracks behind, which is why education about online data protection is highly recommended for children and teenagers at an early stage.
In this article, you will find a basic guideline on internet safety for kids as well as specific tips on using online protection tools and protection software. We also show you which safety controls keep you protected when using a smartphone, computer etc.
Basics for parents about data protection and safe websites
To protect your child from malware and data theft, you need a certain level of basic protection on your computer, smartphone etc. For this protection to be effective, you should use the most recent version of your operating system and an up-to-date web browser. Take your time and explain to your child why these basic functions are important. It is also necessary to install anti-virus software and to perform regular updates. Explain to your child that attachments such as videos, photos or text files may only be downloaded and opened when they come from trustworthy sources.
You can already check whether websites are secure while surfing the internet together. A safe website meets the following criteria:
The abbreviation https is present.
The website includes a legal notice/imprint.
The browser window shows a closed lock symbol.
Invite your kid to look for these requirements independently – this is how he or she develops a feel for which pages are trustworthy.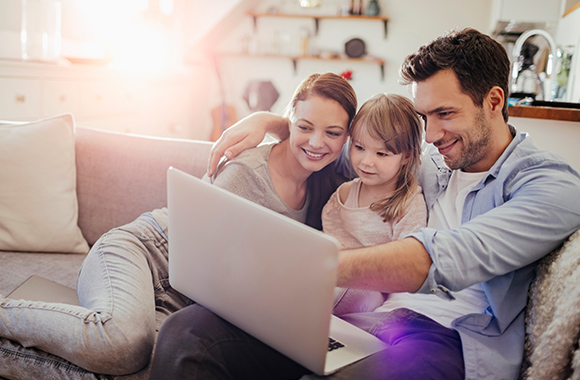 Digital footprint: How to erase your traces online
Every internet access potentially increases your digital footprint because all traces of your online activity can be tracked. Although not all internet activities contain sensitive or personal data, it is still important to make your child aware of possible data security issues.
Tips about the use of Google and commercial advertising
Even if you protect your computer with an antivirus software, there is no automatic guarantee for complete data security. Perhaps you are using Google as a search engine at home, or you have a Google account to install apps on your smartphone. As soon as you use Google services, your locations, browser history, apps used and more can be saved. If you use Google SafeSearch, you can avoid that your child reads inappropriate content. Personalizing and protecting a Google account is also possible.
In addition, good alternatives to this search engine exist. DuckDuckGo puts high emphasis on data protection, Ecosia is inspired by ecological values, and there is also a large selection of child-oriented search engines and child-friendly websites to choose from. You can also set these as your start page.
Your child is confronted with pop-up advertisements not only when surfing the internet – more and more often, advertising appears in games that encourage in-game purchases or in-app purchases. Especially young children and teenagers should therefore learn to evaluate these pop-ups sensibly and become aware of possible risks and unwanted expenses. It is helpful if you get to know digital media together and select games that are age-appropriate. You should discuss with your child how to handle in-game advertising and agree on reasonable media guidelines.
Many smartphones also allow you to disable in-app purchases or to create a password which then must be entered prior to every purchase. It is also possible to deactivate location tracking and set up parental controls with automatic time limits.
Safety in social networks and instant messengers
Social platforms and apps also save personal data such as age, interests, addresses and "likes" of their users. This way, data can easily be spread around while you are surfing the internet. If you have ever asked yourself why an ad might offer a discount for a store around the corner, you will find the answer right there.
Though, to be able to use platforms such as Facebook or Instagram, as much personal data as possible is requested. Therefore, you should take the time to discuss privacy settings and data protection with your child in detail. In our check list, we have assembled the most important tips for privacy protection: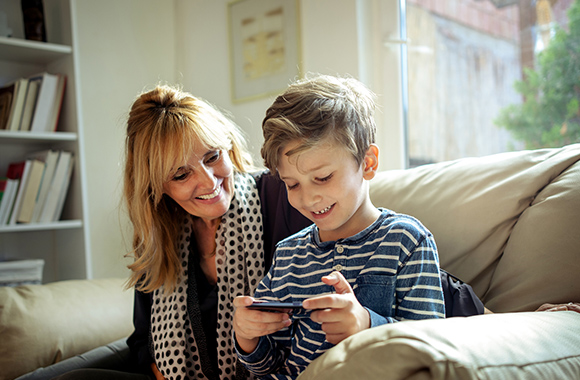 Before you start to use a service, you should always read the terms and conditions first. Here, you can find out which data is stored and for what purpose.
Make sure that no detailed personality profile is generated and create a private profile for your child.
It is best to regularly check the privacy settings of services and providers used.
Remove the tick in the consent check box for advertising.
Warn your child not to respond to disrespectful comments or messages – this would only cause more trouble. To avoid ignoring the issue and be active instead, you can report and block the user together.
Tip: Content-control filters or parental control software allow you to create a protected online environment for your child. With the help of this software, your child can only access websites that are listed as trustworthy.
As you can see, you do not need to completely miss out on social media. What matters most is that your child needs to learn to think carefully before posting or commenting and to reflect on possible consequences. Also, not every user should be allowed to view your kid's social media posts.
Beware of false friends: Remind your child not to chat with unknown users.
Beware of false friends: Remind your child not to chat with unknown users.
Online use of images and videos
It is important that your child knows what to do when someone shares an image without permission. Not everything available online may be used and shared: Professional photos are often protected by copyright. If a picture is not explicitly made available for free use, permission must be sought from the photographer and the source must be indicated. Only once you have done this, you can use the image or post it on social media.
Additionally, explain to your child that everybody has a right to their own image. If other people are clearly visible, your child must ask for their consent before sharing the picture or video – showing respect online and observing privacy rights are important in this process. Also, in case of tagging people, you must always ask for permission first.
Furthermore, you should explain to your child that embarrassing details about another person may not be posted. Always remember that a "funny" picture does not justify the posting of an embarrassing or insulting post. Once a post is online, the images are accessible in search engines and may even be forwarded by other users. To avoid an image or video of your child being published without permission, you can access the settings in most networks together with your child and adjust them so that your child will be asked first and needs to give consent.
A strong password is especially recommended when using public networks. Also, your child should not share his or her password with friends, classmates, or strangers.
A strong password is especially recommended when using public networks. Also, your child should not share his or her password with friends, classmates, or strangers.
Strong passwords: Create a secure password
E-mail accounts, Facebook, Instagram and Google – this means a lot of logins. Before your child explores the internet, you should explain what a secure password is and why it is so important.
Look for the following characteristics, when choosing a secure password with your child:
No patterns: use various nicknames/pseudonyms and e-mail addresses without reference to your real name
Unpredictable/arbitrary: do not use logical numerical series and no terms or personal data, such as names or birth dates, also not from people you know
Complex: replace letters with symbols or numbers, e. g. '@' replaces 'a'
Long: at least 12 characters (the more capital and lower-case letters, characters and symbols are used the more secure it is)
Inaccessible: passwords should not be stored in a file on the computer or carried around on a writing pad
Check out how secure your password with password strength tools like https://www.security.org/how-secure-is-my-password/.
Check out how secure your password with password strength tools like https://www.security.org/how-secure-is-my-password/.
Summary
The internet offers many opportunities, but it also involves a lot of risks. Responsible internet use is therefore important for the entire family. Many parents wonder how they can make the internet safer for their children. For more online safety, you can use special security and privacy settings and explore alternative browsers and software for children. It is fundamentally important to explain the ramifications of online safety issues to your child and that you take the time to explore the internet together in a safe environment. Act as an example for your child and build trust that allows your child to come to you and ask when problems or questions arise.
Sources and further reading
https://www.consumernotice.org/data-protection/internet-safety-for-kids/
(accessed on 11 February 2022)
https://www.safewise.com/resources/internet-safety-kids/
(accessed on 11 February 2022)
https://www.kaspersky.com/resource-center/preemptive-safety/kids-online-safety
(accessed on 11 February 2022)
https://mediatemple.net/community/products/dv/204644370/strong-password-guidelines
(accessed on 11 February 2022)
Image sources
iStock.com/PeopleImages
iStock.com/mixetto
iStock.com/Gerber86
iStock.com/zeljkosantrac