Hiking gear: Tips for a long-distance hike
Good and functional equipment is essential to really enjoy your time in nature, especially on hiking tours lasting several days. You should make sure you have high-quality items and keep an eye on the total weight of your hiking gear. If you only pack the hiking gear you really need, you can relieve your back even on multi-day hikes. In this article, we show you which hiking accessories are crucial for your backpack and which hiking clothes you should take with you.
We have also put together a packing list for your hiking backpack so that you can start packing for your long-distance hike quick and easy.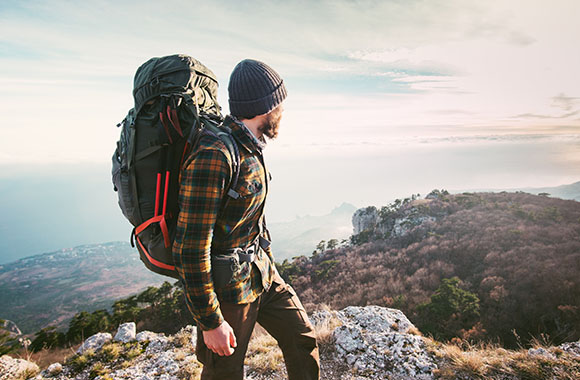 The right hiking gear: Considerations and tips
To put together the right hiking gear for your journey and make the right preparations, you should research the route in advance. Take a close look at each stage and search the internet for experiences of other hikers. This will give you a better idea of what weather conditions you can expect, where to stay overnight and whether you can buy provisions along the way.
For long-distance trekking beginners, a tour that regularly passes accommodations, inns and shops to restock supplies is recommended. You can save on special backpacking accessories such as tents and cooking utensils and concentrate on long-distance hiking for the time being.
There are multiple disciplines in hiking, for example, long-distance hiking and backpacking. You can find an overview of the different types in our article "Types of hiking".
There are multiple disciplines in hiking, for example, long-distance hiking and backpacking. You can find an overview of the different types in our article "Types of hiking".
To avoid carrying too much on a multi-day hike, it is worth investing in lightweight, high-quality products. Such hiking gear is easy on your back and can also be reused for many years. On a longer hiking tour, the weight of your backpack is crucial. Every piece of equipment has a certain weight that you must carry around for days. It is advised to keep track of the total weight of your gear beforehand. Write down the weight of each item – from the smallest sock to the sleeping pad. This way you know exactly how much your fully packed backpack will weigh in the end. A beginner's backpack should weigh around 10 kg in total. With this weight on your back, long-distance hiking is much more fun for beginners.
The hiking backpack: Your trusty companion on your tour
The hiking backpack is one of the most important pieces of equipment. Make sure that it fits your back and is of good quality so that it can carry the weight of all your hiking gear. To find the right model for you, you can get advice in a specialist shop. You can try out different hiking backpacks with weight and have them adjusted to fit your back.
Your hiking backpack should have these features, among others:
The main load should be on your hips to relieve your shoulders. A wide, padded pelvic strap is recommended.
Make sure your backpack is the right length so that the weight can rest on your hips.
To avoid sweating on your back, it is helpful if your hiking backpack is equipped with an appropriate ventilation system, such as mesh or padded ventilation. This prevents the backpack from resting directly on your back and causing you to sweat underneath.
It is handy if your hiking backpack comes with a rain cover.
For long-distance hiking beginners, a capacity of 30 litres is recommended for the first few hikes. If you want to take backpacking gear such as a tent and cooking utensils, you should choose a trekking rucksack with a capacity of 50 litres.
Packing your hiking backpack correctly – tips for a more comfortable back
When packing your hiking backpack, you can follow a few tips to make your hiking tour even more comfortable for you. With the right packing technique, you can pack your backpack in a way that is easy on your back and at the same time always have the most important things at hand:
Very light items such as your down jacket or sleeping bag belong in the bottom compartment of your hiking backpack.
Pack heavy items as close to your back as possible.
Clothes and other medium-weight items are best packed on the outer edge of the main compartment.
Make sure that your rain gear is on top. It will be handy in case of a sudden change of weather.
Smaller items can be stored in the lid compartment.
Important items such as your water bottle or hiking poles can be stowed in the side pockets of your rucksack.
Pack sacks hardly add any weight and can help keep your packing tidy.
This way you distribute the weight well and ensure a perfect balance.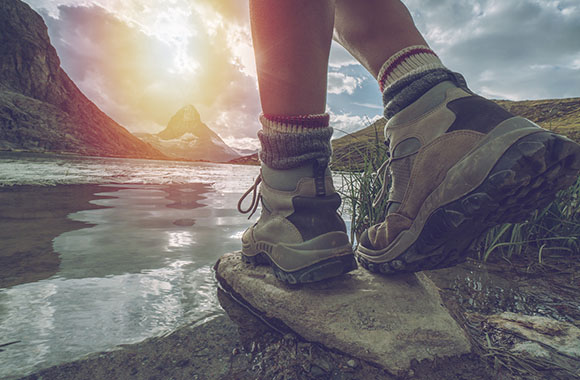 The right hiking clothing: Prepared for any weather
Like other sports (for example running and jogging) you can use the "layered clothing" principle for hiking clothing. This means that you put on several thin layers that keep you warm and dry and that you can easily take off when needed. This allows you to adapt flexibly to different weather conditions.
To achieve maximum protection from the cold and wet, you should consider the following functional layers:
Base layer: This consists of a breathable functional shirt and keeps you warm.
Insulation layer (mid-layer): A fleece or thin down jacket keeps you warm.
Weather protection layer (shell layer): The outer layer serves as protection against wind and rain.
This combination of layers also tells you what hiking clothes you should pack for your tour:
Especially for the base layer, shirts made of (merino) wool are recommended. These are absorbent, dry quickly and do not absorb odours as much. They are perfect for longer hiking tours. However, you should make sure that the wool comes from certified organic animal husbandry.
To prevent your clothes from getting wet during the hike, you can also pack them in plastic bags or drybags. This will keep your clothes clean and dry, even if you get caught in a downpour. It also gives you the opportunity to pack wet clothes safely until you have a chance to let them dry.
Even in warmer regions, go for long-sleeved shirts and functional trousers with long legs, as these protect you well from the sun. A cap or hat should also be in your hiking rucksack at all times of the year to prevent sunburn.
Even in warmer regions, go for long-sleeved shirts and functional trousers with long legs, as these protect you well from the sun. A cap or hat should also be in your hiking rucksack at all times of the year to prevent sunburn.
How do I find the right hiking boots?
Since you are on foot all day when hiking, your feet should be optimally protected. It is important that your hiking boots fit you and your planned hike perfectly. As with your hiking rucksack, get advice from a specialist shop if necessary. There you can try on the shoes and test them.
The perfect hiking boot offers you good support even on rough terrain and gives your ankle additional stability. This protects you from injuries and guarantees good surefootedness. Hiking boots also have an impregnation or wax coating to protect your feet from moisture. Since the material used to protect against moisture wears off over time, you should renew this protective layer at regular intervals.
Once you have found the right hiking boots for you, you should first break them in thoroughly before your long-distance hike. Try to wear your hiking boots as often as possible to get used to them and avoid blisters.
Additional backpacking gear: Hikes without overnight accommodation
If you want to go backpacking, you will need additional equipment to spend your nights in the open air. This includes a sturdy tent and possibly cooking utensils. To sleep comfortably at night, without freezing, you will also need a sleeping mat and a suitable sleeping bag. Consider the following aspects of your trekking gear:
A good sleeping mat protects you from the cold of the ground. Since the underside of the sleeping bag is compressed between your body and the ground, it cannot keep the heat optimally. The sleeping pad is there to compensate for that.
Your sleeping bag should be adapted to the hiking region. On hiking tours in Central Europe, we recommend sleeping bags that can keep you warm at night even in sub-zero temperatures. 3-season sleeping bags are suitable for temperatures from 0 to -10 °C. For tours in colder regions, you will need a winter sleeping bag.
You can choose from many different tent models. Tunnel and dome tents are most used for trekking tours. Dome tents can be pitched on hard ground and do not need to be pegged down (i.e. secured). Tunnel tents must always be pegged down, but they are lighter and more spacious than dome tents. You can also opt for a small, lightweight backpacking tent that is easy to set up. 
Provisions for hiking & backpacking: Tips for eating & drinking on the road
If you have decided to cater for yourself on your tour, a diet as rich in carbohydrates as possible is the be-all and end-all. Since your body needs enough energy on every stage, it is important to always have enough food and drink with you. In addition, your provisions should be as light as possible so that your hiking gear does not become even heavier. In the following, we give you some tips on which foods are suitable for backpacking tours:
Energy bars and dried fruit are ideal as a snack in between and give you a lot of energy.
Freeze-dried meals are easy to carry and simple to prepare.
If you want to cook for yourself, polenta and rice are very good staples.
For breakfast, muesli packed in portions is a good choice.
You can find more suggestions and even recipes for trekking food on the internet on many blogs and in forums.
Always plan at least one extra meal in case of delays. This way you are on the safe side if you don't make progress as quickly as planned.
Always plan at least one extra meal in case of delays. This way you are on the safe side if you don't make progress as quickly as planned.
In addition to sufficient provisions, you should also make sure that you always have enough drinking water on hand. Check beforehand whether there are enough drinking water sources on your hiking route or whether you need to accumulate supplies for certain sections. If you are going on a hike with no restocking options or places to stop for running water, water purification tablets or a water filter will help you to produce safe drinking water.
Additional hiking accessories and must-haves for your long-distance hike
To make sure you don't miss anything, especially on multi-day hikes, there are a few other useful items you can pack. Some of them are designed to keep you safe, others to make you a little more comfortable.
Use biodegradable soap. Solid natural soaps made from vegetable oils are particularly good. However, you should still make sure that even such natural soap does not end up in rivers or lakes. Instead, get some water, soap yourself on the shore and let the foam and soapy water seep into the ground. You can replace travel detergent with grated curd soap.
Choose plastic-free and environmentally friendly alternatives to toothbrushes and toothpaste. Bamboo toothbrushes or wooden toothbrushes are good options. For toothpaste, you can choose environmentally friendly natural cosmetics or toothpaste tablets.
Microfibre towels are light, very absorbent, and dry quickly afterwards.
A special outdoor or trekking umbrella will protect you in sudden changes of weather. These umbrellas are stable, light, and easy to carry with carabiners or belt loops.
A first aid kit with bandages and personal medication belongs in every trekking rucksack. In a small first aid bag you can also store a signal whistle, for example.
On longer tours or due to delays, you may also be hiking at dusk or at night. To get a better idea of the terrain ahead, it is helpful to have a torch or headlamp with you.
A general recommendation when choosing hiking accessories is to look for products that are as sustainable and environmentally friendly as possible. Go for reusable equipment and try to avoid plastic, e.g. with refillable drinking bottles and metal lunch boxes. You should also pack a rubbish bag so that you can transport your rubbish cleanly and easily to the nearest rubbish bin.
Conclusion
When it comes to choosing the right hiking gear, functionality and comfort are what counts – lightweight but sturdy items that are of high quality are guaranteed to accompany you on many hikes. Before buying a hiking rucksack and the right hiking boots, it is best to go to a specialist shop for advice. This way you can be sure that your hiking gear fits comfortably and is easy on your back and feet. With the right packing technique, you can also ensure that you can store all your utensils in a space-saving way.
References:
https://www.caucasus-trekking.com/general/trekking-packing-list
(Accessed on 12.10.2021)
https://www.wellplannedjourney.com/day-hiking-essentials/
(Accessed on 12.10.2021)
https://www.cleverhiker.com/blog/ten-things-you-should-bring-on-every-day-hike
(Accessed on 12.10.2021)
https://www.beyoftravel.com/outdoors/hiking-packing-list-what-to-pack-for-a-hike/
(Accessed on 12.10.2021)
Image sources:
iStock.com/pixdeluxe
iStock.com/Everste
iStock.com/swissmediavision
iStock.com/knape