shop.global.1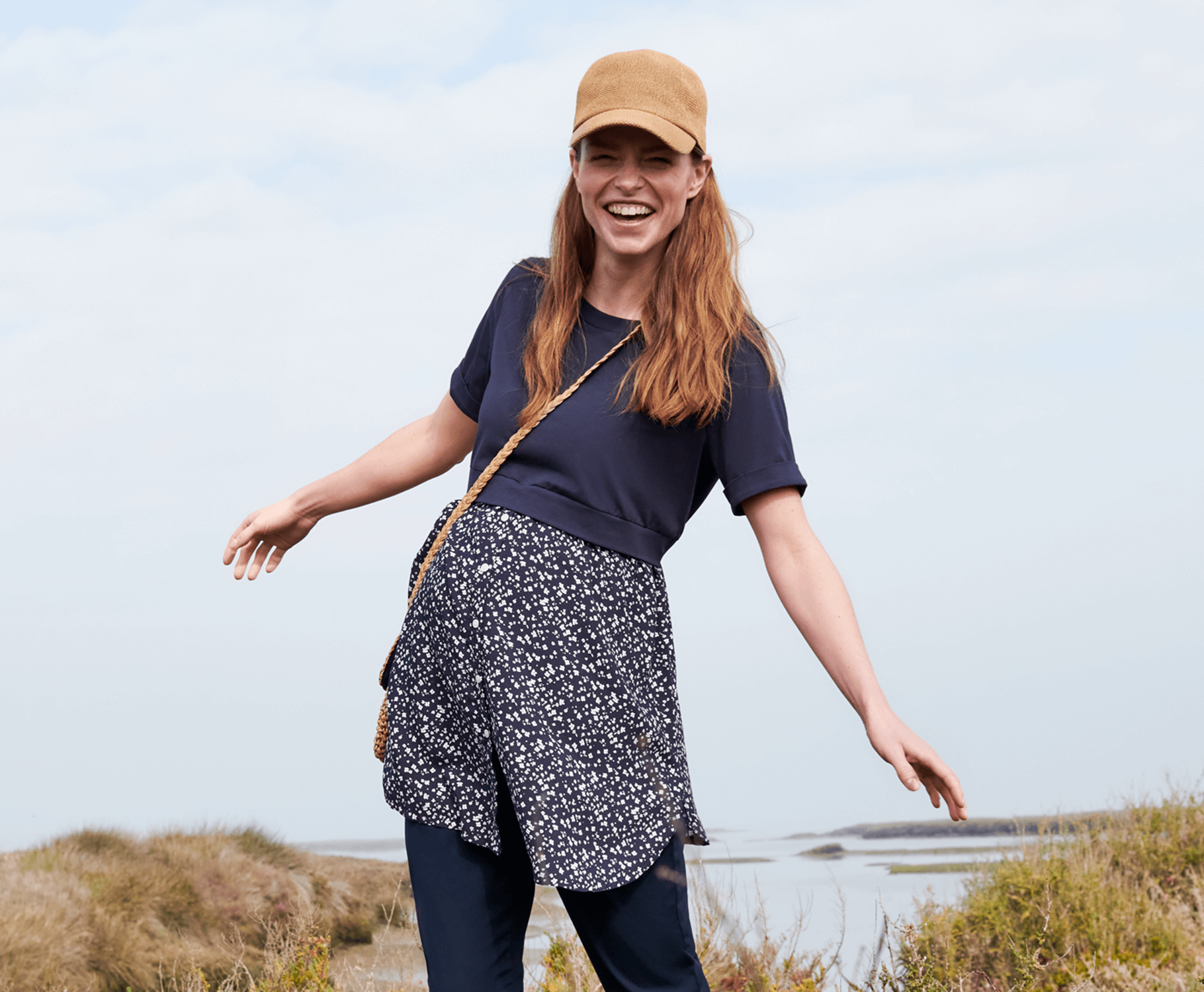 The
first trimester
Fashion and more for your pregnancy
Exciting days from here on in: Your baby is growing
As a soon-to-be mum, your belly and the tiny tot inside you are getting a little bit bigger every day. The first trimester – the first three months of pregnancy – is particularly exciting for many women. Everything is new and changing. The fertilised egg has now reached your uterus and made itself comfortable there. The cells have started to divide. The organs, brain and nervous system begin to form. The small heart starts to beat – so quietly that we can't hear it yet. Over the next 12 weeks, the little embryo will turn into a foetus that already looks like a tiny human being.
Be prepared for lots of happy moments in the coming months! Of course, you will soon start to notice the first signs of pregnancy due to hormonal changes. The early months typically involve tender breasts, (morning) sickness, fatigue and mood swings. But don't worry, it's totally normal and happens to virtually every pregnant woman.
Our pregnancy guide will follow you on this wonderful and exciting journey from day one, helping you to find the right maternity wear for each chapter of your pregnancy. Feel really comfortable throughout your pregnancy with our useful tips. So, you'll be prepared and styled perfectly for every trimester. Explore our maternity range and tips for staying comfortable now!
Stylish maternity
wear
While you are carrying your little bundle of joy, you can still dress as stylish and trendy as ever. Whether it's maternity party dresses, sportswear, business looks, maternity swimwear or simple basics – our versatile line of modern maternity and breastfeeding clothing means you will be on trend during the coming months.
Must-haves for the first trimester of your pregnancy
Want to buy maternity wear but don't know where to start?
Our must-have checklist has you covered when it comes to finding the right essentials for all seasons and situations.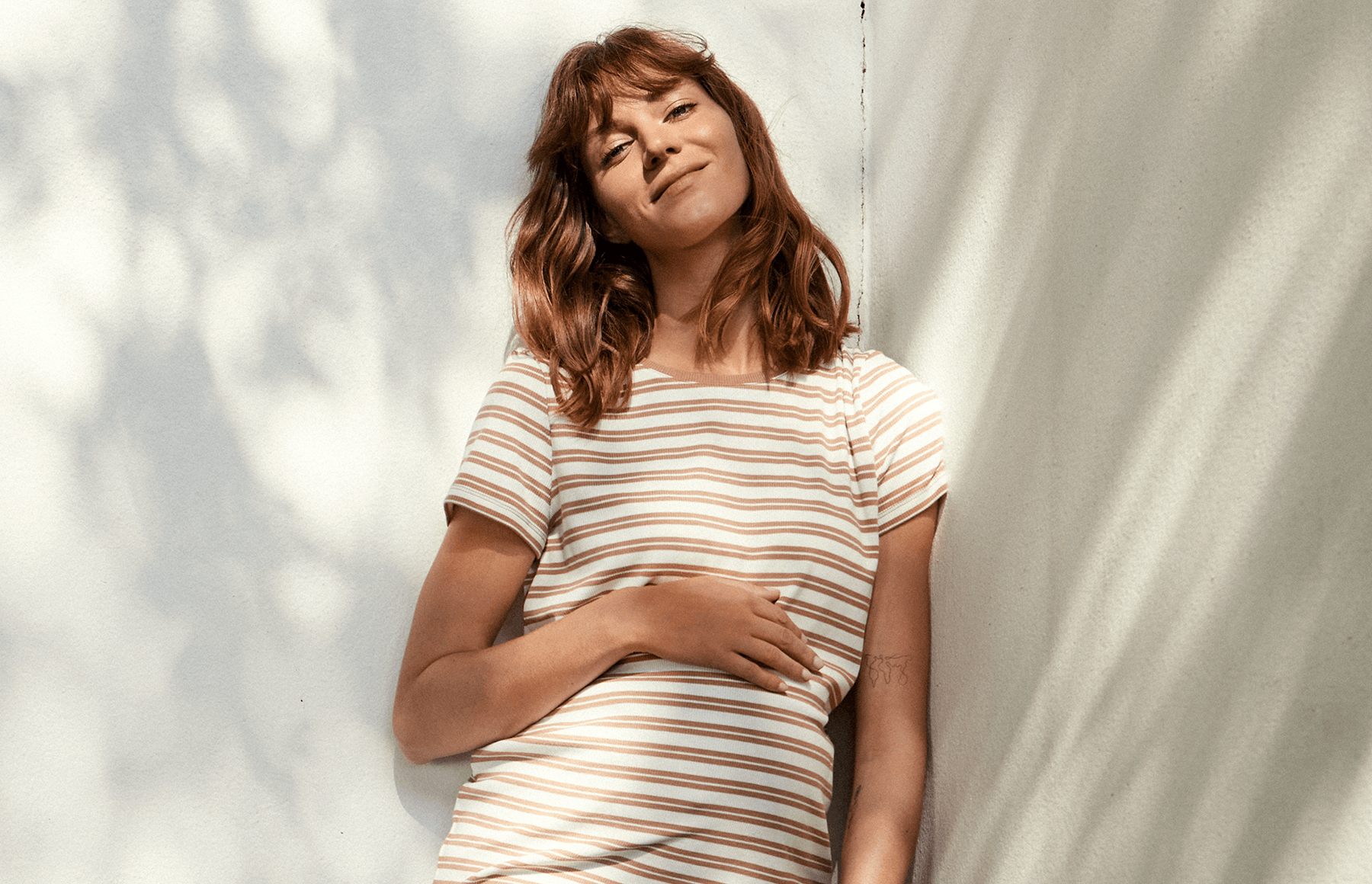 Pregnancy must-haves
checklist
2–3 breastfeeding shirts and maternity blouses
2–3 maternity dresses or jumpsuits
5–6 breastfeeding bras
2–3 maternity jumpers or cardigans
2–3 maternity pyjamas or nightshirts
1 maternity jacket/coat with baby panel
2–3 maternity trousers or jeans
1–2 maternity leggings
1 drawstring jersey cotton belly band
Download the checklist featuring styling tips
How to cover your
baby bump
In the first few weeks, you can barely notice you're pregnant – and you probably want to keep it a secret. To keep your belly hidden until you're ready to share your pregnancy with friends and family, in the first trimester opt for airy maternity blouses and dresses with a high waist or cuffs above your belly.
Styling tip: the empire style falls loosely below the bust and pushes your waist upwards. It's perfect for hiding your tummy.
Go-to piece: Maternity trousers
Maternity trousers support your bump and are so comfortable. Because they grow with you, they always fit perfectly. You can wear them over or under your belly and choose from your favourite designs. The lower band is ideally suited to early pregnancy and it offers high levels of comfort even for a smaller belly. The upper band offers maximum support for when your belly gets really big. Ultimately, it comes down to which types of trousers you find the nicest to wear.
Ideally, you should get your first pair of pregnancy trousers as soon as your normal pants start to stretch – this will probably be around the end of the first trimester.
Good to know: Maternity trousers have extra buttons so you can adjust your waistband and your baby bump will look so adorable. Just go for your normal size when buying pregnancy trousers.
Adjustable waistbands for growing bellies
Simply adjust the button to loosen or tighten the waistband. Pull the elastic straps to adjust the fit at the waist. Secure the elastic to the buttons in the waistband for a firm hold.
All our maternity trousers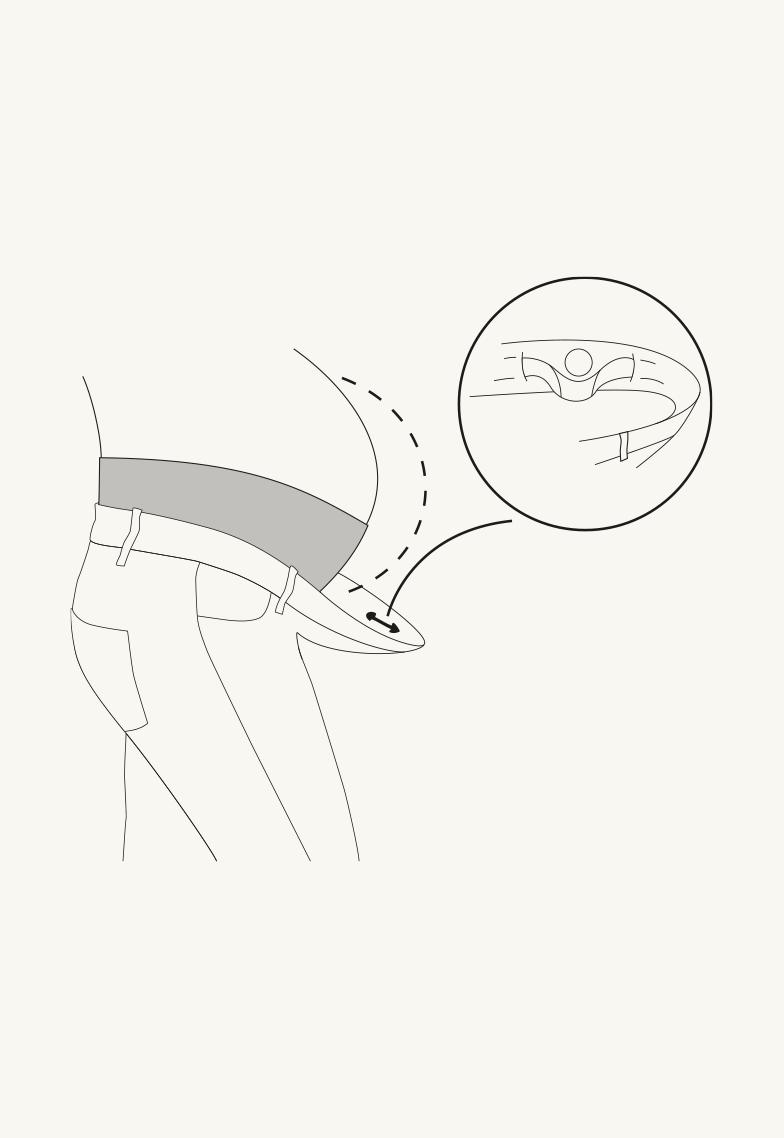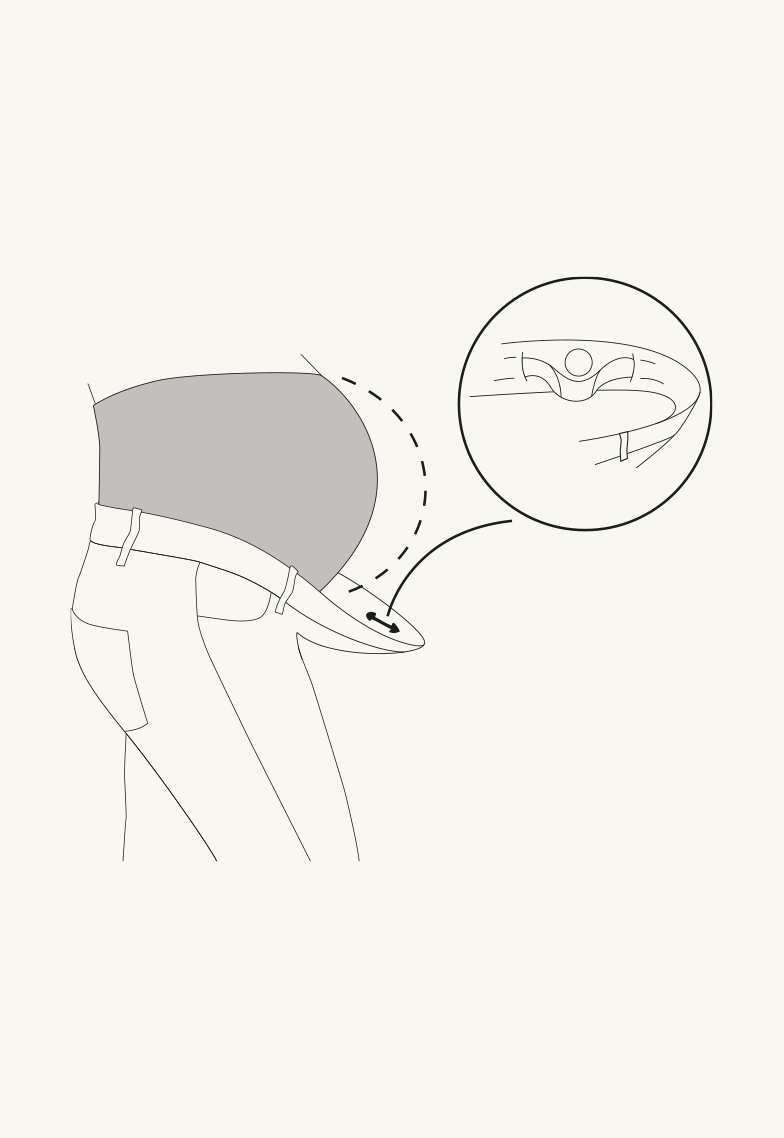 Sustainable fashion during
pregnancy
What you buy now, you can still wear later. Crafted in high quality modern styles, you will still be able to enjoy our beautiful blouses and dresses long after pregnancy.
Tips for staying comfortable in the first trimester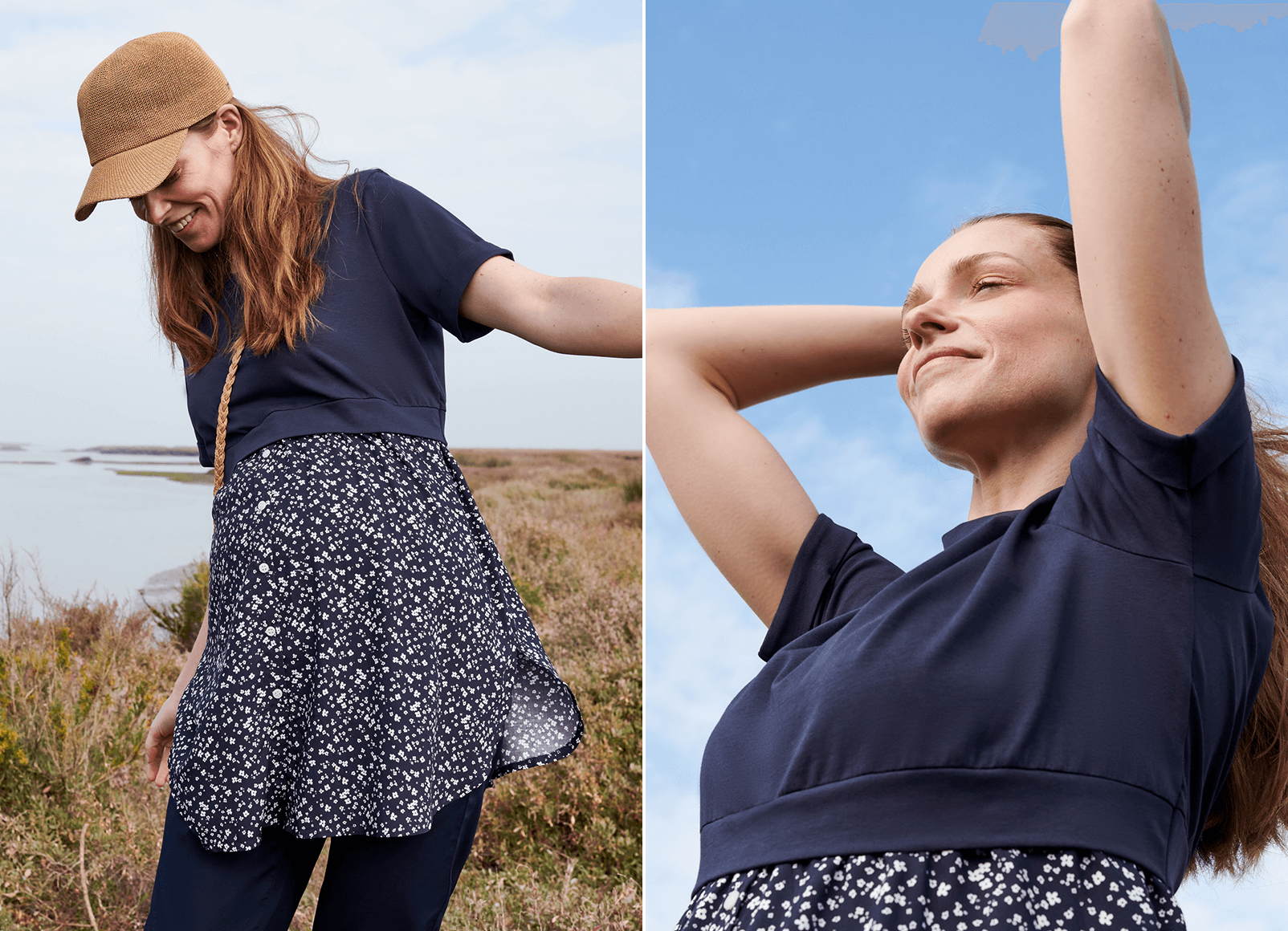 Make an appointment with your gynaecologist
The first examinations, including the first ultrasound, will happen between weeks 9 and 12. Book an appointment early with a gynaecologist who you trust. Don't know any? Ask your friends to recommend a gynaecologist.
Watch what you eat
Avoid raw animal products during pregnancy (smoked fish, raw milk cheese, raw eggs etc.). Alcohol, nicotine, and other drugs are completely taboo. Instead, learn more out about pregnancy vitamins like folic acid, magnesium or iron. Also make sure to eat adequate wholegrains, fruit and vegetables, dairy products and protein.
Tip: Want to know the must-have to prevent morning sickness? Ginger tea and plain biscuits! The ginger soothes your stomach while the biscuits stabilise your blood sugar levels.
Movement is good for your back
Over the next few weeks, your body will have to carry more and more weight. Gentle sport is good for your muscles during the first trimester and will help you to ease back pain. Bathing or swimming can also be enjoyable while you are pregnant. Plus, we also have a line of special maternity sportswear which is ideal for your workouts.
The early bird catches the... midwife
Midwife care is very popular. If you want the support of a midwife, you should start looking for one right away. Ask your gynaecologist for recommendations. They can certainly give you a list of qualified midwives.
Be fashion forward
As time passes, your new curves will really start to show. There's no more hiding your belly in the second and third trimester – it's time to share your bundle of joy with the world and proudly show off your bump! We will show you how to style your baby bump while staying true to your own style. Read our tips for the second and third trimester.