shop.global.1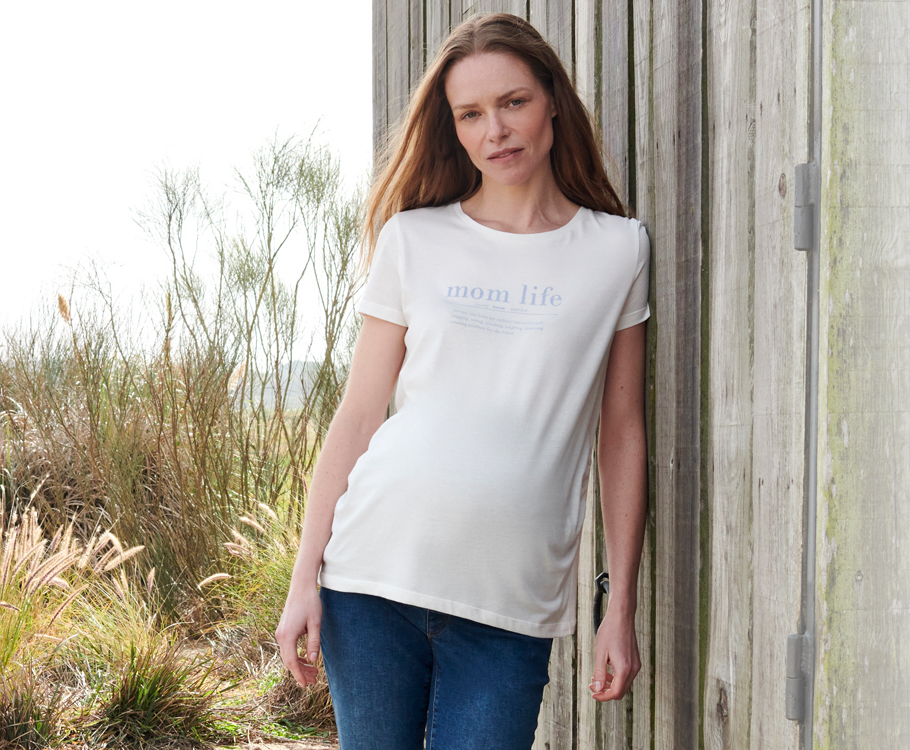 The
third trimester
Fashion and more for your pregnancy
You and your baby: the final countdown until the birth
We bet you can't wait until you can finally hold your baby in your arms. Everything is ready and your belly is already nice and heavy. Your baby's organs will be fully formed over the next few weeks. Next your little rug rat will get into position for birth and their lungs will mature. If your baby is born before their lungs have reached full capacity, your little one will still need some medical support, but would otherwise survive fine.
Your baby will grow another 20cm in the final weeks of pregnancy! In between bursting with love, happiness and pride, you may now notice your movements are restricted due to your big belly, and you may be experiencing back pain, shortness of breath or dizziness. But don't be alarmed, your body is strong and designed to keep your little baby safe until he or she is born.
When it comes to clothing, the third semester is all about "Showing off your bump!". No matter which clothes you prefer now – loose and comfortable or figure-hugging – it's all good. Our tips for the last trimester will help you prepare for the birth and present your proud baby bump in style - whatever the situation.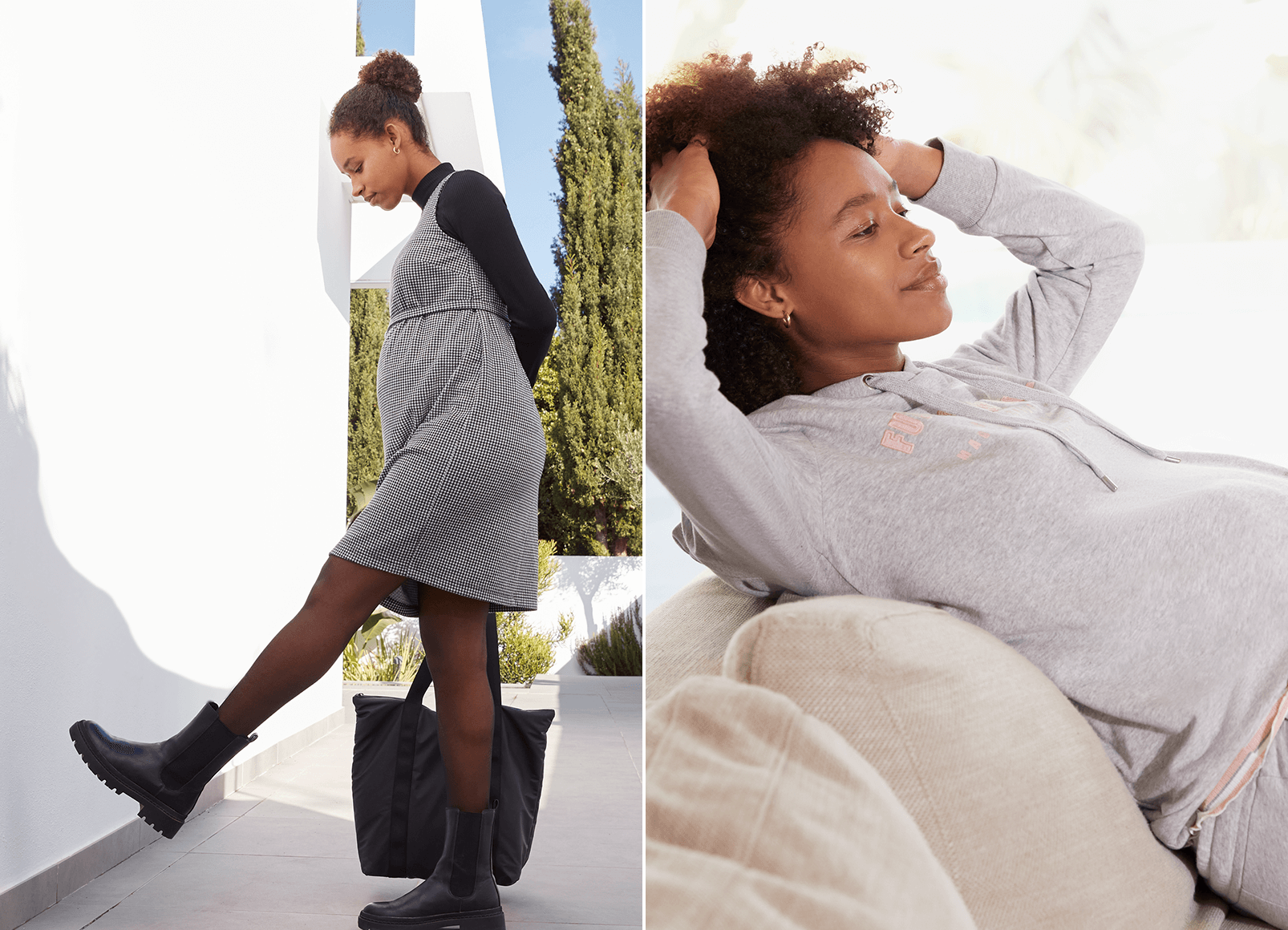 Fashionable cuts for
the third trimester
Are you already familiar with some of these attractive cuts for maternity dresses?
Empire style: falls loosely below the bust and hugs your tummy.
A line: Feminine silhouette with a swinging, slightly flared skirt.
Shirt dresses: loose-fitting cut at the waist featuring a button placket that reaches the chest.
Wrap-around style: offers enough space for your baby bump and hugs your figure.
Styling tip: Why not show off your spectacular baby bump? We have a range of comfortable jumpers and T-shirts to really highlight your bump. The band under the bust really highlights your tummy and the side gathers to fit your curves. You can continue to use the shirt after childbirth, as it has includes a breastfeeding panel.
The final weeks of pregnancy
The final trimester is another exciting time. Your baby is preparing to come out and is getting into the position for birth. Additionally, Braxton Hicks contractions start at the end of pregnancy. They help your baby to get into the right position for birth and are no cause for alarm.
Towards the end of the 3rd trimester, the intervals between ultrasounds also get shorter. Your gynaecologist or midwife will start to check in every fortnight to see how you and baby are doing. It will probably be much harder to move when carrying such a huge baby inside of you. Even if your thoughts are now increasingly revolving around the birth: Don't let yourself get stressed, do something good for yourself and get comfortable clothes that don't restrict you!
Tip: There are so many podcasts, books and influencers who talk about pregnancy and childbirth. They provide so much useful information which can ease your worries or fears and help you to relax.
Time to pack your hospital bag!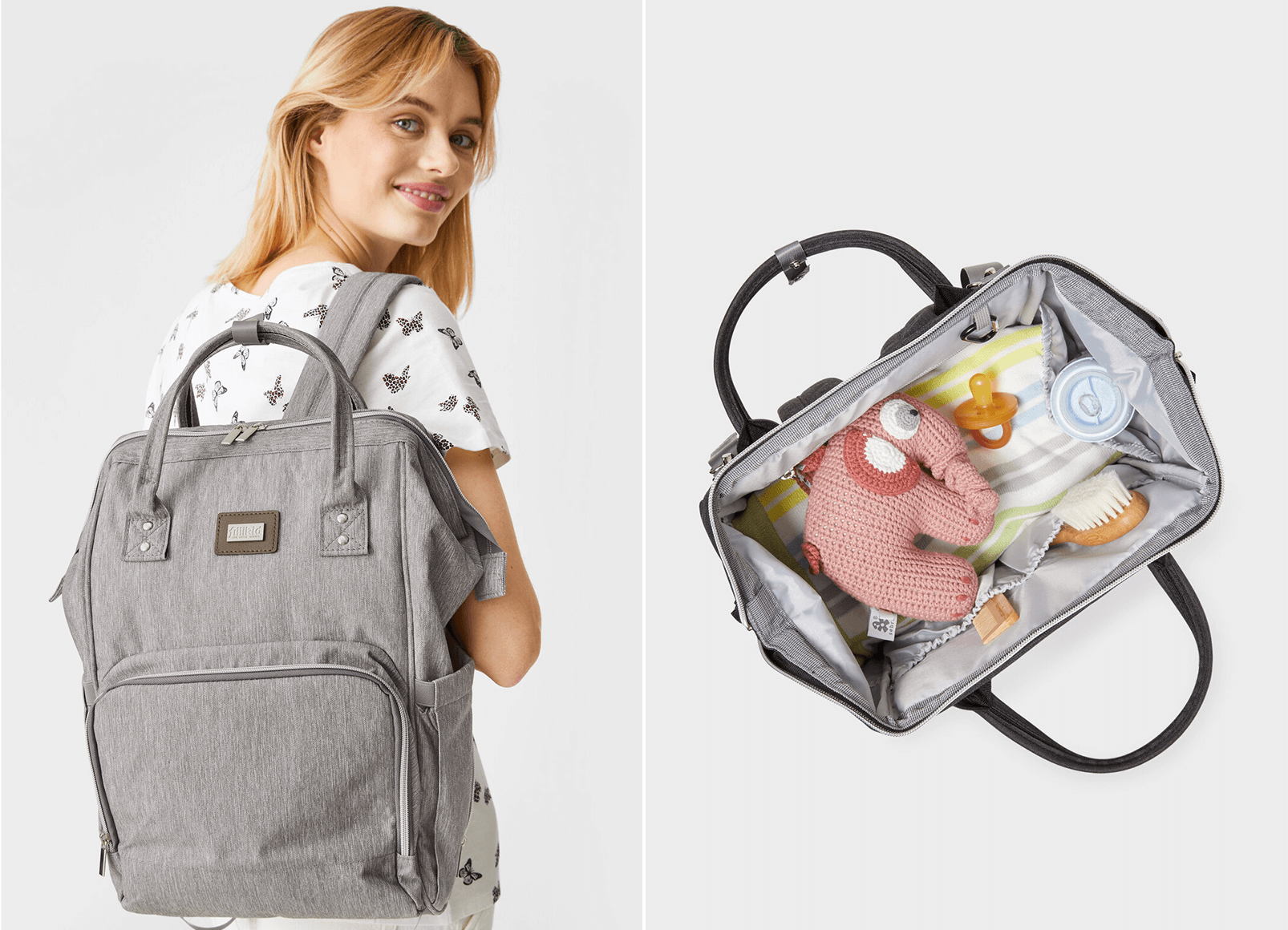 Hospital bag checklist
Maternity log, health insurance card, personal ID & family register or marriage certificate
Toiletry bag with cosmetics (body oil, lip care, wet wipes, etc.)
4 comfortable, loose-fitting nightshirts
2 nursing bras & nursing pads
1 pack of high-absorbency sanitary pads
4 pairs of boil-proof briefs or disposable briefs
Dressing gown
Towels & cosmetic wet wipes
4 pairs of socks or knee socks
Comfortable clothing that fit you 2–3 months ago
Phone charger
Checklist for during the birth
1–2 comfortable, loose-fitting (sweat)shirts or cosy cardigans
1–2 pairs of jogging bottoms or leggings
Thick socks
Gloves
Pillows
Favourite music, book and magazines
Snacks for reinforcement, e.g. cereal bars
Checklist for baby's first clothing
2 bodysuits
2 tops
1 pair of long cotton trousers
2 pairs of socks
Baby hat and jacket for the journey home
Favourite music, book and magazines
10 burp cloths
2–3 size 1 nappies for the day you leave hospital
Download the complete list
Sustainable fashion for
you
Much of our maternity wear is made from premium sustainable materials. We also design our outfits to be sustainable, so that you can continue to use them after childbirth, e.g. much of our maternity wear features a hidden panel for breastfeeding. #wearthechange
Versatile nightwear: Did you know that our maternity underwear continues to be valuable even after childbirth? Due to the gathers under the bust, there is always enough space for a growing belly during pregnancy. And the chest area is designed so that you can continue to use your nightgown or pyjamas for breastfeeding after the birth.
Tips for staying comfortable in late pregnancy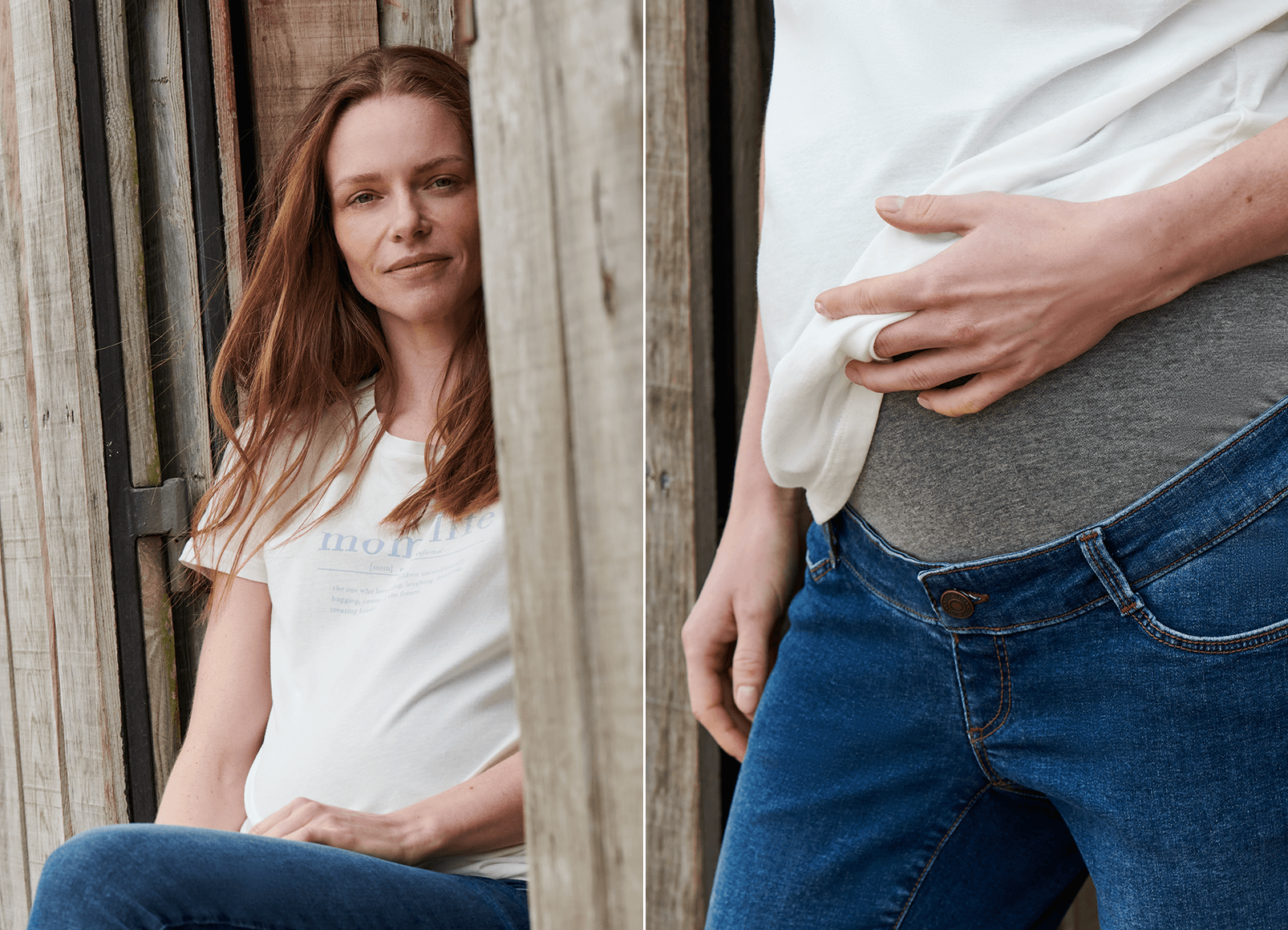 Time for self-care
And we mean that in the truest sense of the word. In the last trimester, everything should be about making you feel comfortable. Only do what you feel like doing and enjoy the time before the birth. Reward yourself and your body for the wonderful work you're doing, e.g. by getting a foot massage from your partner, having a long relaxing bath or movie night, taking naps, or meditation.
Your new go-to shoes: Slippers with soft soles
In the last trimester, your feet have to carry more than usual. Do yourself and your body a favour and invest in some really comfortable footwear that you can simply slip into – without having to tie any laces. It can really help you get through the day.
It's all about preparation
It's a good idea to take an antenatal class towards the end of your pregnancy so that you and your partner have an idea of what to expect. It will help you to emotionally prepare for the birth and will calm your nerves.
Money, Money, Money
Maternity leave begins 42 days before childbirth. Get your paperwork in order early on. Fill out any applications for parental or maternity leave before the birth. Then all you need to do after childbirth is to enclose the birth certificate and you can send everything away immediately.
Staying active and putting your feet up: the perfect blend
Pregnancy hormones and additional weight are really noticeable in the final weeks of pregnancy. The last trimester often comes with nausea, water retention or back pain. Now you should make an extra effort to move your body. Walking or swimming is good for your back and helps prevent water retention. But it's equally important to relax. Putting your feet up can also help ease your discomfort.